The Bow Tie Quilt Block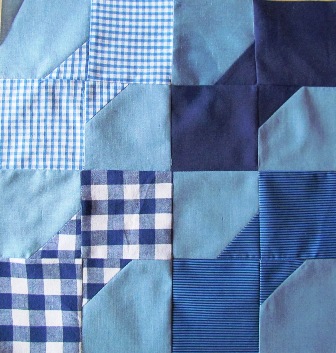 The bow tie quilt block is sewn using a mixture of large and small squares and uses five different colours of fabric. One for the background and the ties stand out by using the four other fabrics. Many shopping outlets have fat quarters of lovely fabric that would be suitable such as Homecraft and Hobbycraft.
This block is pieced together a little like the Dutchman's puzzle block in that when each tie square is made it is then joined onto another one to form a rectangle and then in turn two rectangles are joined to complete the block.
There are many other designs of patchwork blocks for example the Ohio Star, Log Cabin, Sail Boat and Roman Pin Wheel to name a few. You can make your own designs as well using rectangles, squares, triangles, hexagons or pentagons. The fun of patchwork is that it can be basic or very complex it all depends on how adventurous you are.

Fabric preparation

For each patchwork block you will need to cut eight 3+1/2 ins (9cms) squares in the material chosen for the background.
From each of the other four colours you will need to cut two 3+1/2 in (9cms) squares and one smaller 2ins (5.2cms) square.

Sewing the Bow Tie Quilt Block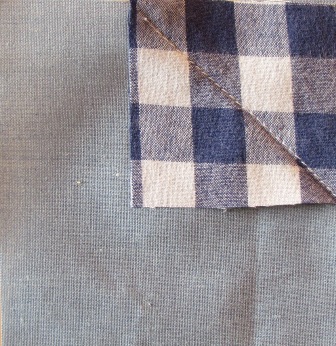 Taking the smaller square of a colour fold it diagonally in half to make a crease either by finger or iron as this will the be sewing guide.
Put the small square with right sides together on top of a square in background material matching the corners.
Sew along the crease line diagonally.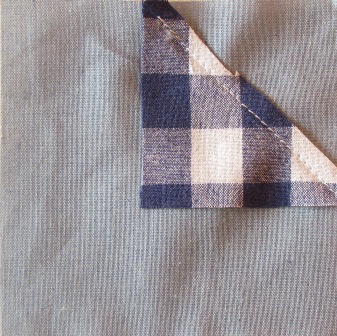 Trim the top side of the small square but not the background material leaving a 1/4 inch seam. Keeping the background material in place should make sure the square remains in shape.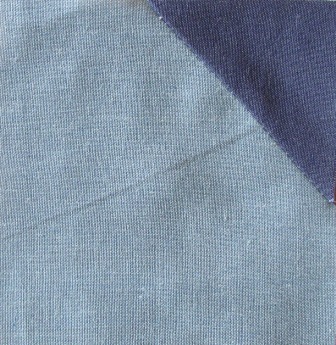 Press the other half of the smaller square over the background material to look as though the larger square has a different coloured corner.
Repeat with the other small squares in the different colours.
Take the coloured corner square and sew, right sides together, to a square of the same colour forming a rectangle. Repeat with the same colour corner but make sure that it is one the opposite side of the second coloured square.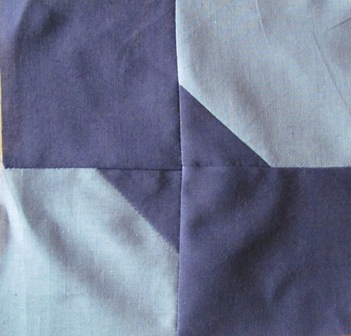 When these two rectangles are placed right sides together the corner squares and coloured squares are opposite each other. Thus giving the bow tie look.

Repeat for the other colours. There should then be four squares each containing a tie of a different colour.

Making sure the ties face the same way, sew two squares together to form a rectangle.
Repeat with the other two colours and press seams.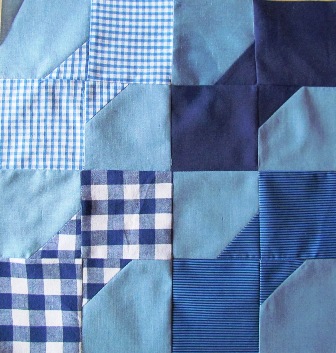 With seams matching place the two rectangles right sides together, sew and press seams.
The block is now complete and can be used on a cushion cover or as part of a more complicated quilt design
I really enjoyed making this block and hope you have as well.

Return from Bow Tie Quilt Block back to Patchwork Blocks