Making
Decorative Cushions
for your room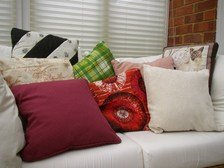 Decorative cushions can be made in a very simple, basic way which can be a good way to learn how to start sewing, getting used to a sewing machine and getting used to the basic stitches. This can lead to more complicated sewing, putting in zips and onto making clothes.
There are a few elements to consider before starting sewing and some are detailed in the grid below.

Different items like a frill can be added which can be a single or double one using the same or contrasting fabric or one of each.
Making a gusset will give depth and are usually used when making seating for outside chairs or chair bases.These are called box cushions.

Who said the shape has to be square experiment by trying different ones and see how far you can stretch your imagination and your fabrics. Some shapes are great for supporting the small of your back or the back of your neck.

Fastenings can be hard to fix into place and practising will make it easier. Sometimes fastenings are also used as decoration. There is one cover that has no fastenings at all.
These can be made by using a lot of different fabrics and made in traditional patchwork patterns or experiment on your own patterns.

Other decorations such as embroidery, cross stitch or appliqué turns the simple cushion into a complex decorative addition to compliment any room.
Decorative Cushions or Pillows

This type of soft furnishing are known as pillows in some parts of the world. They both are used in the same way as a decoration for your room or for added comfort while sitting.
There is such a lot of lovely fabrics available in lots of different colours and designs to suit most homes. There are many outlets such as Laura Ashley and Minerva Crafts as well as a few more on my shopping page.

Some have jobs to do and help around the house and garden. While others hide a quilt inside that can be used as an extra cover when the temperature falls. This could be while camping, travelling or sitting watching television.
There is a lot of scope for your imagination in all aspects of sewing so have fun and enjoy.
Return from Decorative Cushions to Cushions and More