Making Bolster Cushions

These steps to making bolster cushions will be the same ones you would follow to cover an existing cushion pad. Making a separate cover will let you change the look of your cylindrical cushion.
The steps to making a) A bolster cushion or b) A bolster cover
Decide on how long and wide it is going to be and make your pattern accordingly. You will need one continuous piece for the body and two rounded pieces for the ends. Make sure to allow an extra 2cms (3/4 in) for seam allowance.
Pin the pattern on the wrong side of the material and cut out.
Taking the main piece, place right sides together and sew seam. Leaving a gap to allow the filling to be placed inside the cushion.If this is to be a separate cover then the fastening can be put in at this stage. The type of fastenings can be a) putting a zip into seam b) Attaching Ribbons or c) Using Velcro. This will depend on the look you would like for your cushion.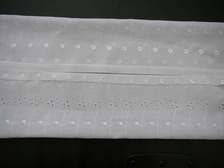 Take the rounded ends and place right sides together with the ends of the main piece, sew in place.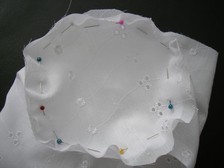 Turn right side out, through open gap or fastening.
If this is to be a bolster pad then the filling of your choice would be put in at this stage. If this is a bolster cover then place the pad inside the opening.
The ends of these cushion covers can be changed to include piping. This would then be stitched to the right side of the fabric after step 2 before the ends were sewn in place.
If the ends are to be tied then make the body longer in length, neaten the edges or finish off the ends of the material to be tied as this would still be seen. Place inner pad inside the cover and then either tie the ends of the material itself or use cord or ribbon.
Sometimes the ends can be gathered and then finished off by placing a button over the middle.
This is done by making the rounded ends into smaller tube shapes. Sew one end as in step 3 and at the other end of the same piece make a hem casing to pull a cord or a tape through.
When the pad is inserted tighten the cord or tape, secure this by knotting or sewing. Then cover the end with a button, tassel or bow.


Return from Making Bolster Cushions to Chair Cushion Covers

Return from Making Bolster Cushions to Sewing Instructions