Man-made Fabrics

an alternative to natural fabrics.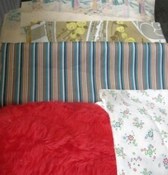 Man-made fabrics are a good alternative to natural fibres. Many of these fabrics have their own individual qualities but will cover most kinds of material on a broader aspect. That is why I have put them all under the one heading instead of the individual categories.The kinds of fabric that come under this heading are:
Acetate
Nylon
Polyester
Acrylic
These fabrics are made from synthetic fibres. This is usually a liquid form of polymer being blown through fine nozzles to get a really fine fibre which is then spun together and then woven into the material.
Rayon was the first of these to be invented and was an artifical form of silk. In 1884 Hillaire de Charbonnay, a french chemist, invented a type that was made from cellulose but it was found to be very flamable and was taken off the market.
A safer way of making this artifical silk known as viscose rayon, was patented in 1894 by three british chemists Charles Cross, Edward Bevan and Clayton Beadle.
Nylon was invented by Wallace Carothers iin 1935 by creating a polymer with a structure like silk but cheaper and that could be made in bulk. Nylon has really lead the way in the market with all the various ways in which it can be used.
These fabrics can look, feel and act like natural fabrics but are easier to clean, unlikely to shrink and usually need no ironing.
Some types can be subsistuted for the real thing such as synthetic fur.
They are also very strong strong and are usually mixed with natural fibres to give added features. Polyester and cotton mixed together will be less likely to crease than all natural cotton. Wool and nylon mixed together will give a warm but strong fabric.
Lovely cushion covers can be made with these fabrics and in some cases are better due to the added features that they give. They come in all kinds of designs and colours.

Return from Man-made Fabrics to Cushion Fabrics