Patchwork Techniques
to create your own Cushions

Wonderful designs can be created using different patchwork techniques. Bits and piece of leftover fabric are joined to make a brand new design and look.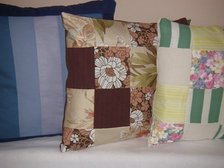 Patchwork originated from early settlers travelling to America from Britain and the Netherlands.  They carried household fabric as part of their luggage. Over the years these began to wear out and the settlers wanted to keep some reminders of their home land. They  set about reusing the better pieces from the worn out fabric to create new cloth.

In the early years new fabric was scarce and very expensive so as with appliqué, this craft was developed from pieces of good cloth taken from clothing that had gone past its best. In some areas, faraway from any towns, home made cloth was used and coloured with vegetable dyes that was used by the Native Americans before.
Eventually with time, shops arrived and sold more pattered fabrics and different types of pattern bases began to emerge using a mix of squares, triangles and diamonds.
In the cushion pictures above I have used the basic squares but stripes, pentagon, hexagon or rectangle shapes could also be used.
The ideas for these pattern bases or blocks usually came from the people who experienced the situations. These could:
Depict their beliefs & faiths using symbols,
A battle fought by showing what happened at the time using pictures,
Dangers of living in remote areas like coming across wild animals or difficult situations,
Things that happen every day or seasons like the growing of flowers or harvests or
Something they personally liked such as types of animals, flowers and fruits.
Different Patchwork Techniques

This type of sewing developed and was used mainly on bed quilts. With the craft involving the whole family and  becoming a social event with quite a few women hand sewing around a frame.
There are many different types of design blocks that can be made into quilts. Cushions can be made from individual blocks or smaller ones joined together. A few well known designs are Log Cabin, Sail Boat, Ohio Star and the Dutchman's Puzzle.The Bow Tie is another block.

Some blocks are first made into a nine patch block such as the Ohio Star. The nine separate smaller squares are made first and then joined in groups of three to create the nine patch block.
With other patterns the fabric is made into strips and then cut out like the Roman Pin Wheel design. You can also make up your own by experimenting with different shapes.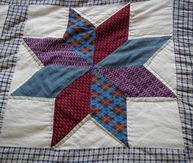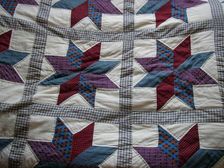 When sewing it is essential that the patterns are cut out as accurately as possible trying to keep everything square. This will be really helpful if the blocks are then to be made into a throw or quilt as they should all fit together better.

The different patchwork techniques can be used to create a beautiful quilt. These can be made using individual blocks of all the different designs and then joined together usually using sashing between the individual blocks and then borders to complete the edges.
Crazy patch work was in fashion in the Victorian times. They enjoyed expensive house decorations but showed they were careful as the smallest of scraps of fabric were re-used. This design was based on squares and was sewn onto a backing fabric. Decorations were then appliquéd on top.
The coming of sewing machines has made this craft easier. The larger pieces are machine sewn with finer details still done by hand.
This patching work is also ideal for cushions, patterns can either extend over the whole cover or be a centre piece design.
Craft outlets such as Hobbycraft have lots of fabrics in fat quarters to help with getting the look you want.
You can do lots more shopping through Amazon as  there are lots of books that show different patchwork patterns and how to sew them. These are some for the complete beginner or ones showing more complicated patterns for those who like a challenge.
Fancy sewing crazy patched work like the Victorians then there is a book to tell you how.
Enjoy experimenting with the different patchwork techniques and try some of your own. Using oddments of fabric to create your unique cushion.
 Return from Patchwork Techniques to Cushions and more