Valentines Day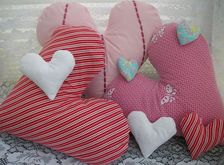 February 14th is Valentines Day and for a long time has been the month for romantics.
This day is set aside for the giving of gifts, flowers or card between lovers.
There is a air of uncertainty about St. Valentine and why he became the patron saint of this day. There were three martyred saints called Valentine, still recognised by the Catholic Church.
Facts about Valentines Day

One legend states that he was a third century Roman priest who preformed secret marriages between soldiers and their sweethearts. Emperor Claudius the second decided to outlaw marriage as he thought soldiers who were single made for a stronger army. Valentine was sentenced to death when he was found out.
Others believe that Valentine helped Christians escape from beatings inside the Roman prisons.
Another thought that an imprisoned Valentine actually gave the first card with the saying " From your Valentine" to a lady that visited him in prison and with whom he fell in love with.
It is thought this day arose in February to recognise the deaths of these martyrs. Others think that a pagan festival of purification was embraced by the the Christian church to celebrate the coming of spring and the cleansing process.
February 14th was thought to be the start of spring and the breeding season for birds which empowered the romantic feeling this day was to become. It is also a popular day for weddings.
In Medieval times Valentines day was celebrated by decorating halls with love lanterns which were candle holders made from vegetables. These resemble the pumpkin used on Halloween.
Love knot jewellery were worn either as a brooch or sewn onto a costume. The Love knot looks like a number eight on its side, meaning no beginning or end as everlasting love. Parties were held with food, music, costumes and games to celebrate the season of love.
It became really popular in the Eighteenth Century, where friends and sweethearts exchanged little affectionate notes. Later on that century the notes where replaced by a printed card.
Today around a billion card will be sent on to sweethearts on this day making it the second most popular day for giving card. The first being Christmas.
Why not give an everlasting gift such as a Valentine Rose from You Garden, this will remind you both of the love you hold for each other.

Heart Decorations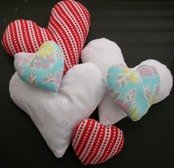 Why not make you own tokens of love by making little heart cushions.
Attach a ribbon with a bow so that they can be attached to things.
Place a little pocket on the front of the heart you are going to send and enclose a note for your loved one or make your heart into a card to give.
If you don't think you will be able to make your heart token in time, I have made a few small and larger heart cushions. Why not take a look at my Handmade Items already made for you.
Enjoy a lovely day.

Return from Valentines Day to Cushions and More