Vintage Shop

Here in the Vintage shop I have made some cushion covers from vintage material.
I have tried to make two cushion covers from material obtained but occasionally I only have enough to make one. The material used is new but bought back in the 70's.
The price of these items are £5.00 each including p&p
---
There are 2 covers available in this lovely brown/terracotta/beige flowery material
---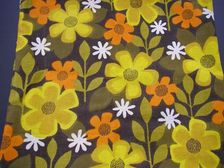 This green/orange/white flowery material will certainly brighten up your room.
I only have one cover left
---