Celebrate with bunting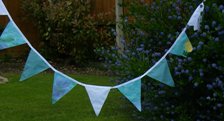 Bunting is fun to use and fun to make. It can make Birthdays, Christmas, picnics, or any other time when friends and family get together spectacular.

This can give a focus on your celebration and show others that there is a special event happening wherever it is going to be held.

In the United Kingdom 2012 was a special year when our Queen celebrated her Diamond Jubilee and the Olympics were held in London. If there is ever a time to hang out the red, white and blue in banner style then this was a great chance for everybody.
There will always be a celebration of some sort to enjoy or a party to be held.

Ideas for using Bunting



The birth of a baby is also a cause to decorate the little room and this time it can be personalised by having the name of the new addition put onto it. The nursery could be decorated in your chosen colours or theme with these banners to add to that choice.
Have your wedding colours enhanced by hanging up these little flags around your reception room. Afterwards it would be a wonderful reminder of that special day and could be brought out to celebrate anniversaries.
On Silver, Ruby, Golden or Diamond anniversaries these could be made in the colours or shapes.
This type of banner can be used as decoration for your parties such as Halloween, Guy Fawkes, St Georges, David, Andrew or Patrick Day or summer barbecues These would then show the emblem of that particular day and could be hung to decorate the ceiling, walls, patio or even hung between trees or bushes.
But why leave all the decorations inside as it can also be a lovely item to hang in tents and caravan awnings as well.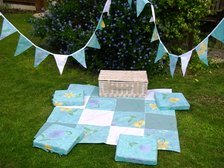 A picnic can be changed from a ordinary picnic in the park into a special party. These could be made to match or compliment a picnic set or ground mat.
Making this decoration can be done in different ways and the little flags can be made in any shape out of paper, plastic or material. How long you want this decoration to last will depend on these factors.
There are many shopping outlets that would have fabric and tape to make these both on line and on the high street.

Whatever the reason for your celebration, do it in style by adding this as a finishing touch.
ENJOY.....


Return from Bunting to Cushions and More
Dear Visitors
During this uncertain time with the Coronavirus pandemic. 
We are all in this together and any sort of craft can help concentrate the mind on different things.
To help everyone please follow the guidance, stay safe and keep well.
Take Care. 
Please take care with any soft furnishing that it does not come into contact with any heat source. 
If you have found an error on this page or want some more information on sewing cushions.
Please contact me . Thank you