Christmas Crafts
Fun to do and make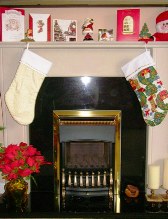 Many enjoy making lots of different Christmas crafts. Sometimes the whole family is involved as a tradition like picking up the Christmas Tree.
Decorations galore can be made in all different forms from paper, cardboard, salt dough, modelling clay, fabric and knitting.
Celebrations such as this makes the whole place twinkle with lovely lights and decorations. Bringing these into your home adds to the excitement and leads to a party atmosphere.
With most celebrations it takes time to get prepared and as with a lot of crafts this preparation takes place months ahead. So the buying of fabric, threads, glitter and glue can be made not forgetting the planning of what to make.
There are lots of craft outlets like Minerva Crafts that have all the items you need.
Not to mention also some things in my Homemade Craft shop

Christmas Crafts Ideas

Advent Calendars
A great way to countdown the days to Christmas. There are many ways these can be made from the simple pictures in envelopes on a cardboard tree or to the more elaborate wooden crafted ones.
My children used to like the little cardboard boxes that held a daily treat for them but filling them took a bit of imagination with the size limited to what could go into the box and for three of them...!

Bunting


This can be made out of fabric or paper. Traditionally the bunting used to be paper chains hung up around the ceiling or walls.
Nowadays all shapes of different bunting is hung up in most rooms and would look great in outdoor rooms like conservatories and summer houses if in use. Made from fabric these will last for ages.

Tree Decorations


Lots of shapes and sizes can be made. A throwback to the traditional wooden ones are also a treat.
Another item for the treat that is a sort of decoration is a skirt to cover the legs of the stand and hopefully to keep the needles off the floor.

Cards


The first item that is usually thought about In December is the writing of cards. This could be another family tradition of making ones to send,  instead of using paper, glitter and glue some could have a cross stitch motif or fabric on the front.
Placed either at the end of the bed or by the chimney for Santa to fill and not forgetting the family dog or cat either.
These are easy to make and can last and last throughout the years.

Cushions


Make some new cushion covers with lovely fabrics showing off the festive season. 

Fabric


There is a whole wealth of fabrics around that show a festive feature great for tableware, bunting, cushions, Christmas stockings and tree decorations.
Hope you enjoy making all your Christmas craft decorations and don't forget the cake as well...
Return from Christmas Crafts to Cushions and more
Please take care with any soft furnishing that it does not come into contact with any heat source. 
If you have found an error on this page or want some more information on sewing cushions.
Please contact me . Thank you