The Christmas Tree

The centrepiece for the festive season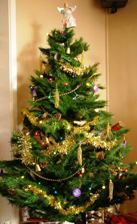 The Christmas Tree is probably one of the most famous kinds of trees. When it is fully decorated with baubles, lights and tinsel for the festive season it really looks lovely.
This tree is also known as a Yule tree with Yuletide being one of the winter festivals.
The first Christmas tree was thought to be a fir tree that had been planted to replace the sacred tree of Thor situated in Geismar, Germany. Although many other countries have stated that it was discovered by one of their people.
Having a tree for the festive season can be traced as early as the Fifteen Century in Livonia, which is now Estonia and Latvia and the Sixteenth Century in Germany.
In the early Eighteenth Century this tradition was common in the towns of the Rhineland and was brought into Canada in 1786. By early Nineteenth Century it was fashionable with Royalty.
Slowly this tradition continued to spread to different towns and countries. Today many towns have an outdoor tree in the middle of the town square all highly decorated.
There are many types of trees both real and artificial. The main kind of real tree is the fir but there are others such as Norway Spruce and Scots Pine to name a couple.
The properties of a perfect tree is to not drop the needles as they dry out, but with modern tree stands water can be included and for the tree to keep its colour and smell.
Many people opt for artificial trees as they don't like the needles falling. The artificial trees come in a variety of colours, sizes, shapes and have already have lights fitted into them.
Making Christmas Tree Decorations

Decorations can be made to hang on the tree by sewing little shapes (squares, diamonds or circles) together and padding them out with filling. A small loop can be sewn on by hand and then some sparkly sequins stitched on the top to reflect the lights.
The squares could be made to represent tiny presents to attach to the tree branches.
Ribbons could be tied to the branches and then made into a bow for an instant effect.
A tree skirt could be made to hide the bottom of the tree and could also serve to collect some of the fallen needles. Festive symbols or pictures could be put on by appliqué.

Whether you decide to make you own decorations, buy handmade or ready made ones I hope you enjoy the festive season.
Many shopping outlets such as Hobbycraft and The Range  have large selections of Christmas items if you need something quickly or need bits and pieces to make your decorations.

Return from Christmas Tree to Christmas
Is there something not quite right about this page? Please contact me and let me know. Thank you