Christmas Celebrations


It is time to get ready for .......you know when!!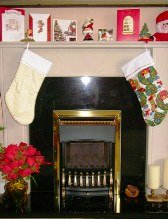 Christmas is a time of year that is a truly magical for all people of the Christian faith. The centre of this celebration is the birth of Jesus on December 25th.
This time of year is also celebrated by many pre-Christian people as this is a time of holiday, gift giving and exchanges of cards. There are lots of different winter festivals celebrated among other faiths.
I just love seeing the decorations and the lights on trees and houses. But it wasn't always like this as Christmas was banned in 1647 by English Puritan leaders. The ban was ended when King Charles the second was restored onto the throne in 1660.
This time of year is a chance for families and friends to come together and celebrate with a meal, party, or giving gifts to and exchanging card between each other.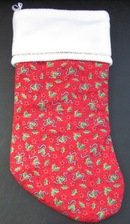 Children are often excited at the prospect of Saint Nicholas or Santa Claus visiting them during the night to leave presents in a empty stocking if they have been good. These can be personalised by putting the child's name on it and this way then Santa knows who owns each one. As a treat some leave a mince pie out for him to take a bite out of and help give him energy to complete his journey.
It is not only the outside of a house that you can decorate but the magic of Christmas can be brought inside. The focal point of the main room is usually a large tree with plenty of baubles, tinsel and lights on it. A star or angel is usually place at the top.
At this time of year people like to decorate their houses to bring in festive cheer. Some put up lots of garlands, lights and tinsel all over the house outside and in. Others like to change just one or two features of the room and this is where cushions and cushion items can play their part too.
Making Things for Christmas

When thinking of this time of year you immediately picture: Snow, Holly, Santa Claus, Snowflakes, Lights, trees, log fires, Snowmen.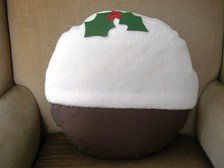 Changing your cushion covers brings in the seasonal change by showing some of these festive symbols or appliqué picture on the front. They can also be made to represent the lighter side of this festive season and give some laughs.
There are some lovely fabrics available from Crafters Companion and in Homecraft that may help you to feel festive.
There are some festive items for sale on line from Cushions and more.
BUT.....

Why stop at cushions when there is a lot of other items that you can make. Apart from stockings, seasonal garlands are hung up on the front of doors and by having one made of material then this can be used again and again.
Decorate with bunting or decorative chains strung across the room or along the walls. Cards placed on all the vacant shelving area, mantelpiece or stuck to various walls or windows.
As well as lovely outdoor lights there are ones to use inside and these just add to the atmosphere.
The twelve days over the festive season can be filled with much enjoyment and when the time comes to take all the decorations down the room can look very empty.
I wonder if this leads onto Spring Cleaning................!
Return from Christmas to Cushions and more