Decorative Cushion Covers

Decorative cushion covers will bring your room up to date, or show your favourite colour, hobby or interest. These can be changed to highlight the seasons or celebrations. Please have a look around at some of the covers I have already made.
Also look under the patchwork items  as well.

They are all made out of cotton or cotton mix fabric and have a zip fastening. Unless otherwise stated they are all approximately a finished size of 17 inches (43.5cms) square.
---
Decorative Cushion Covers for you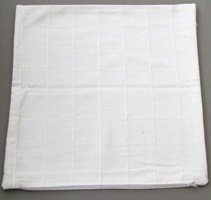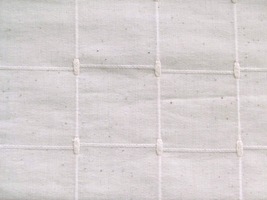 This fabric is cream, with an oatmeal fleck, and has a square pattern running through it. the corners of this square pattern have a decorative extended stitch. This material is medium weight.
Price (per cover) £4.00 including delivery.

---
This fabric is just beautiful although the picture is not good. The colour is curtain weight rich gold with embossed leaves etc in the detail.
Price (per cover) including delivery = £4.00

---
This fabric is a light to medium weight and has outlines of Apples in various shades of beige and grey, the back ground is a lighter colour. Overall it shows a neutral colour. This has a piped edge and a zip fastener.

Price (per cover) including delivery = £4.00

Please take care with any soft furnishing that it does not come into contact with any heat source. 
If you have found an error on this page or want some more information on sewing cushions.
Please contact me . Thank you