The Dutchmans Puzzle patchwork Block

The Dutchmans Puzzle patchwork pattern is made up of large and small triangles. Each set of three triangles are known as a flying geese unit. Theses units are sewn together to get this pattern.
Five different fabrics are used.  One that is for the background and another four to show the different flying geese.
There are many shopping outlets that have lovely fabric that could be used in patchwork such as Homecraft and Minerva Crafts. These specialise in the craft side of fabrics.

One block of this design is made up of eight separate flying geese units which are sewn together.

Fabric preparation

Background Fabric

Cut out eight 3+7/8 inch (10cms) squares from the material that is going to be used for the background.
These eight squares then need to be cut diagonally to form sixteen triangles.
Other Fabrics
Cut out one 5+1/8ins (13cms) square from the other four fabrics you have chosen.
This square has then to be cut diagonally to give two triangles. This will give eight triangles in total.
These eight larger and sixteen smaller triangles should all be cut as accurately as possible. This will give a better finish when it is made up.
Try to cut your patchwork pieces as accurately as possible to ensure the block fits together well.

Sewing the Dutchmans Puzzle Block

Take one large and one small triangle and place right sides together so the diagonal of the small triangle is against the small side of the larger triangle.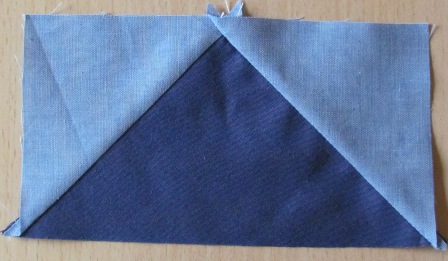 It is important to match up the bottom corner of the large triangle which will give a little background fabric overhang at the top of the larger triangle, this will give a slight separation of the flying geese units.
Repeat for the other side and for the other large triangles.
Press seams and trim corners and top of excess material.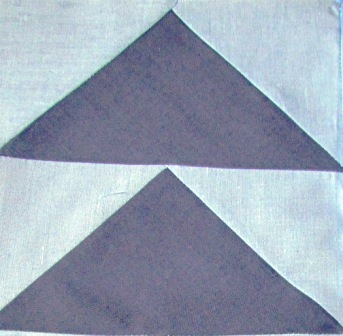 Next the flying geese units of the same colour need to be sewn, right sides together, so the large triangles are pointing the same way to make a square.

Press seams and repeat for the other colours.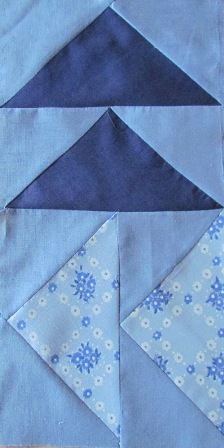 The next stage of the Dutchmans puzzle is to join two squares of two flying geese units together, right side together, so the different colours and pointing different ways. This will give a rectangle with two different colours of flying geese units.

When looking at the block the pairs of large triangles seem to turn a quarter turn in each square until it is back to the beginning in the first square.

With right sides together and matching the seams join the two rectangles.
Press seams.

The block is now complete and can be used as a cushion cover or as part of a patchwork quilt.

Please take care with any soft furnishing that it does not come into contact with any heat source. 
If you have found an error on this page or want some more information on sewing cushions.
Please contact me . Thank you
Return from Dutchmans puzzle to Patchwork Blocks