Celebrating Easter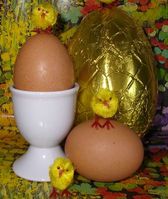 The main Christian celebration is Easter Sunday. This is the day, Christians believe Jesus came alive again after dying on the Cross and gives a sense of new life or beginnings.
Another important festival is Christmas which is believed to be the day when he was born.
The date of this festival moves from year to year depending on the calendar of the moon and can be in some years as early as the end of March or as late as the middle of April. It is also when the forty day fasting at Lent ends. The Friday in the last week of lent, known as Holy Week, is Good Friday.
The giving of painted chicken eggs during this time has been a long tradition with the egg symbolising new life. In later years this has been replace with chocolate eggs.
In some countries the Easter bunny brings the eggs for the children to find, these can be collected in little baskets that are usually lined with straw. This then makes it look like a birds nest.
Many people celebrate this festival with the giving of cards and the giving and hunting of Eggs. Many villages, Towns and Cities have a variety of parades and Shows in which people can dress up or have their skills at making traditional cakes or decorating hats judged.
These new beginnings and celebrations can be brought into your living room with religious wall hangings or pictures made showing the different symbols at this time of the year.
Cushions can be made in the shape of Eggs and decorated with bright colourful ribbons. They can also be made into hot cross buns or with chick or rabbit motifs on them. Both of these are also a symbol of this festival.
Celebrations at this time can be enhanced with egg shaped bunting in bright yellow or green colours. If your celebration is a birthday then this time of year makes it very special.
Enjoy your celebrations.


Return from Easter to Seasonal