Reviewing Ready Made Cushions

There are many outlets both on line and off line that sells ready made cushions.
This website was developed to encourage visitors to make their own wonderful cushion creations however easy or hard it is to do. Making your own cushions takes time and sometimes a lot of patience. If you just want one to brighten up or add a modern colour into your room then one from an outlet could be right for the moment.
Recently I have been asked to review a cushion from an on line outlet.

Reviews
---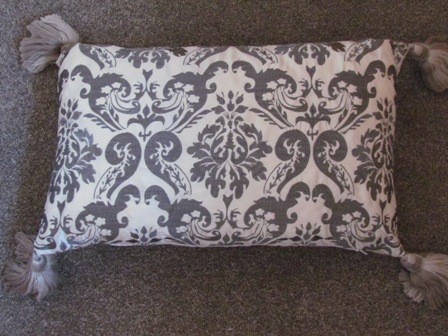 The Company is called www.cushionsonline.co.uk
The cushion was a Blenheim silk charcoal and cream cushion.
I was looking forward to receiving my Blenheim Embroidered Silk Cushion as the picture looked good. I had picked the charcoal and cream one to match my colour scheme.
Disappointed, anything but as it looks just lovely, the material (100% silk) feels luxurious. It isn't shiny silk but the plain back has got a lovely texture set off by the rich embroidery on the front. As you hold it up to the light the colour of the embroidery changes very slightly, adding a feature. Each corner hosts a plump tassel looped inside and secured well. The pad is well filled with duck feathers and gives good support. The removable cover has a zip fastening. The size is good for head or back support and it sits well at the side of a settee.
This is a beautiful cushion and one that would enhance any room.

---
Please take care with any soft furnishing that it does not come into contact with any heat source. 
If you have found an error on this page or want some more information on sewing cushions.
Please contact me . Thank you