Simple Design

an easy start in making cushions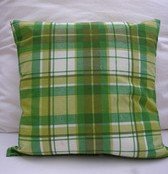 A Simple design is the most straightforward start in making a cushion. Other names for this design are knife edged and basic.
This design can be easily made in less than an hour with half a metre of fabric or less depending on your chosen size.
This would also be the design when making the inner pads for the cushions as most of the intricate features of other cushions are usually only in there top cover.
This basic cover does not have any extra frills, seams or trimmings of any kind and can be used to quickly brighten up a chair, bed or settee.
They can be made in bright colours to enhance the existing colour scheme, pick out a certain colour you would not necessarily have as the main colour scheme but within the whole room scheme or in new colours to bring your room quickly up to date.
These are made with two halves of fabric machine sewn together. Then the desired type of fastening can be sewn in, if this was to be used as a casing for the filling then there would be no fastening.
The casing would then be turned right side out, to have the seams facing in. The Filling would be put in at this stage if making a pad and then the opening slip stitched closed.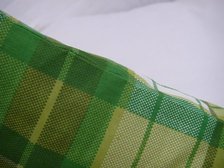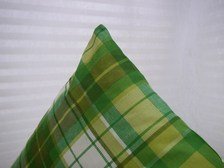 A basic cushion cover could then have a row of top stitching done near the edge to be decorative although this is not necessary.
The top stitching could be sewn in a different colour or to match a colour already in the cushion material. This may also give a bit of strength to the cushion as well.
Before you know it you have made a simple cushion. I hope you now enjoy adding some detail when you feel ready.
Please take care with any soft furnishing that it does not come into contact with any heat source. 
If you have found an error on this page or want some more information on sewing cushions.
Please contact me . Thank you
Return from simple design to cushion designs