Vintage Shop

Here in the Vintage shop I have made some cushion covers from vintage material.
I have tried to make two cushion covers from material obtained but occasionally I only have enough to make one. The material used is new but bought back in the 70's.
The price of these items are £5.00 each including p&p
---
There are 2 covers available in this lovely brown/terracotta/beige flowery material
---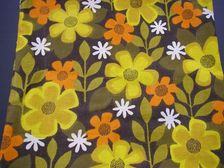 This green/orange/white flowery material will certainly brighten up your room.
I only have one cover left
---
Please take care with any soft furnishing that it does not come into contact with any heat source. 
If you have found an error on this page or want some more information on sewing cushions.
Please contact me . Thank you