Autumn Celebrations
Cushions Galore, October 19th 2014
Hello and welcome to new subscribers.
Looking back summer on the whole was good with plenty of sunshine although I still haven't made my new kneeling pad. I did make some picnic seat pad which I thought could be used inside or out.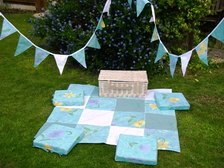 Apart from a little cold weather a few weeks ago, Autumn is also turning into a lovely season. There are a few celebrations at this time for example Diwali, different Harvest Festivals, Halloween, Guy Fawkes night and the lighting of Blackpool Illuminations to name a few with many more as well.

The darker nights make seeing the fireworks and lights associated with these celebrations a lot easier especially in clear skies.

Parties that come with these celebrations can be enhanced with some sewing. I think that bunting is underestimated as this can uplift a room and quickly give the type of party it is.

This time of year has also a period of remembrance with the 100th anniversary of the First World War.

There can be outdoor music festivals as well and some Quillows either large or smaller versions can keep you warm while listening.
---
New pages
There have been a couple of new pages since the last newsletter.

Carrying on from the sewing curtains page I have done a page on tab top curtains.

A page on reusing material shows ways of recycling material as you don't need to throw away bits and pieces.

There are still a few pages that have been published without pictures and work is still on hand to rectify this.

I have also been applying to different affiliates as I hope to be able to give visitors to my site a chance to buy all they need to make their project in one visit, without having to go out and shop around. I have choices of shopping outlets in a few cases to try and give a range of items and prices.

Sometime visiting this site can give ideas and with my shopping tab to the different outlets from Amazon to Laura Ashley hopefully I have been able to achieve this.




---
Coming up next time
I want to continue to improve on the pictures over the next few months and will try to enhance the page for bordered cushions and animal cushions.

I am going to enlarge my curtain section with more pages and possibly try some more patchwork patterns.

That is what I start out deciding what to do but could go off in another direction entirely.

Enjoy deciding on and making your projects.
E J
P.S. Do you know someone who may like to receive this newsletter? Please forward this email to them and they can subscribe by visiting