Beautiful Quillows

A cushion with a cosy difference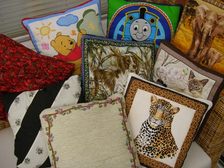 Quillows......I can hear you saying to yourself "Yes but what are they"
These type of cushions are made to include a single bed size quilt inside that is used for the padding when the quilt is not in use.
The front of the cushion and the quilt are attached and when the quilt is pulled out the front of the cushions can act like a pocket for your feet. The front part can't be seen and the back of the cushion and the quilt are made from the same material.
Storage problems.. not at all as they look like ordinary cushions and will sit very well on the chair or settee until the quilt is needed.
Turning it back into a cushion will only take a few folds and a bit of fitting back into the casing and some practise.
Uses of Quillows

Snuggling up on the settee in the evening to watch television, a great way to save money on heating.
A comfort blanket for children, really good for the bath / bedtime routine and a way to wind down from a hectic day.
An extra layer for warmth at sleepovers or in student rooms.
Giving a sparse room more of a homely feel be it in an institution or house.
A handy mat/cover for yoga or meditation.
An added layer when camping or caravanning.
The cushion front sometimes shows a picture and this has top stitching to enhance the detail with the final product having a quilting effect.
Some other types of interest could be musical and then the front cover could show piano keys or guitars with the inside quilt having musical notes on it.
However I have had friends say that they don't particularly like cushions with pictures and I have used a ribbon design or used the same fabric as the inside as an alternative.
If this size of quillow is too large for you then these can be reduced to half the size and when made smaller these are handy to take out with you.
The beauty of these cushions is that no two will be the same as the outside colour and inside design would probably be very different even if the basic interest was similar. 


I have made some for my son, daughters, nephew and nieces, about twenty years ago, and are still going strong, so who knows they could turn into a sort of family heirloom.
Please take care with any soft furnishing that it does not come into contact with any heat source. 
If you have found an error on this page or want some more information on sewing cushions.
Please contact me . Thank you