Christmas Celebrations
Cushions Galore, December 10th 2014
Hello and welcome to new subscribers.
I seem to say this every year and the time in between feels like it is getting shorter but I can't believe that Christmas will soon be with us. whether you are wrapped up against the cold or sunning yourself on the beach, I hope you enjoy this winter celebration. This season can be the time when unfinished sewing work or new projects get under way.
I have attended a few craft fairs in recent months so have been making new items to entice visitors to see them. I have tried making some table place mats and a table runner. A padded Christmas wreath and some Christmas tree decorations. These have been enjoyable to make but a little taxing when the fabric doesn't go the way you want it to.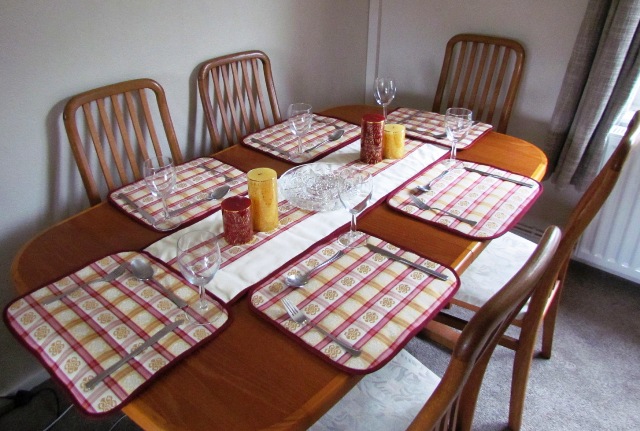 Winter is a great time to try a new aspect of sewing such as patchwork. If making the design yourself then use some graph paper to draw out your design to help you see the shapes you need to use. There a a lot of designs to follow with some shown on my website. Once you have a few different designs make them into cushions or a lovely quilt to snuggle into on these cold evenings.

Another good winter craft is cross stitch whether you add a little motif to one of your makes or want to make a full cushion cover. There are a few lovely designs that have been hand picked in my Amazon shop.

There are also others like Embroidery, Tapestry and Quilting. All these craft give such stunning results. Hope you find the one to suit you.
---
New pages
There have been a few new pages since the last newsletter.

Carrying on with sewing curtains, I have done a page on beginning to make curtains and drapes.

There is quite a lot to think about such as finding the right track or pole for hanging curtains.

Before the curtains are made and ready to hang, the amount of curtain material needs to be calculated.

A different type of curtain has resulted in the page on eyelet curtains.

This section may have to be re-structured once other pages are published in order to make the navigation easier. The different styles of curtains all use a different amount of fabric so this needs to be in one place otherwise visitor would be lost.




---
Coming up next time
I still would like to continue to improve on the pictures over the next few months and will try to enhance the page for bordered cushions and animal cushions.

I would like to enlarge my curtain section with more pages on how to sew the different styles of curtains and possibly try some more patchwork patterns.

That is what I start out deciding what to do but could go off in another direction entirely.

Enjoy deciding on and making your projects.

Wish you all a Merry Christmas and a Happy New Year.
E J
P.S. Do you know someone who may like to receive this newsletter? Please forward this email to them and they can subscribe by visiting