Sewing Cross Stitch for Cushions


Cross stitch can be used for pictures, cushions, cards or gift tags with possibilities in between as well. These can be sewn to show your particular interest or hobby.
There are many ready made kits available, like those shown in the picture, in lots of different sizes and prices to suit everyone.
Exploring Cross Stitch Kits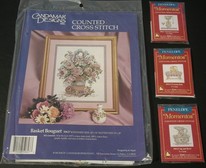 These kits provide all the materials, such as Aida fabric threads and needle, needed to complete the picture on the front of the kit. They are usually counted cross stitch where a block is made up of four holes and it is these blocks that are counted so that the picture can be place onto the fabric.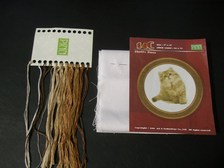 This can also be done without kits. The fabric used is called Aida and it comes in different colours. The size of the picture is determined by the size of the blocks, otherwise known as thread counts, in the material.
Another type of fabric that is used is Even weave fabric. Again the weave has a specific number of threads to the inch (2.5cms).
Smaller pictures = finer material = more threads
Larger pictures = large weave = less threads.
Stranded cotton is the type of thread that is usually used and come in different colours. These are available in sewing and craft shops.  The lengths have to be cut for sewing and in a length that won't get tangled. Two strands of cotton are usually used together for these pictures.
The Aida fabric can be stretched over a hoop or a frame this is to keep it tight while being sewn to keep the stitches even.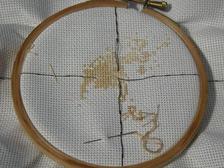 The individual stitch is sewn across a square of four holes which on Aida is one block. The first stitch goes across from top right to bottom left or top left to bottom right depending on which way suits you. The next stitch goes in the opposite way so a cross is formed.
It doesn't matter which way you sew your crosses but you need to make sure that all the stitches that are on the top are facing the same way as this will make the finished picture look better.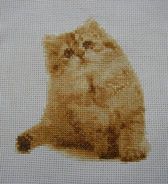 This is quite a large subject to cover and there is an Amazon link , for more books, kits for cushions or pictures, on the shopping page.
There are also cushion kits available through Minerva Crafts as well.
I hope you enjoy doing this stitching as much as I do. The finished item is well worth the time it takes to complete.
Return from Cross Stitch to Chair Cushion Covers
Please take care with any soft furnishing that it does not come into contact with any heat source. 
If you have found an error on this page or want some more information on sewing cushions.
Please contact me . Thank you