Foam Blocks

a firmer support for cushions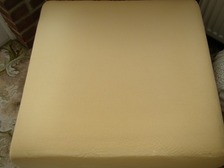 Foam blocks are used in making chair cushions as bases or it can be used to make cushion inserts. They are made from Polyurethane.
This was invented by a German chemist called Otto Bayer, he along with a few others invented the foam in the late 1930's.
It is a kind of polymer made up of carbon units joined by urethane links.
This is used widely in seating, insulation panels, wheels and tyres, sealants and carpet underlay to name but a few.
These kind of cushion fillings are really good for the bases of chairs and are usually put inside boxed cushion designs. Their rigid nature makes them ideal and give extra support that a cushion base needs. If a soft base is needed then the foam can be covered in wadding to make it softer.
This filling is used more in garden cushions and would be good when making a cushioned seating pad for picnics.
When making cushion covers for these type of seats the cover needs to fit the foam shape exactly. Usually the foam insert needs to be folded slightly to get it through the gap left for the fastening. As the block springs back into shape it will slightly stretch the material giving a tight fitting appearance.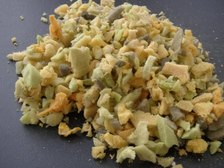 Foam can also be used inside scatter cushions either in blocks or as foam pieces.
If using foam pieces these can get a little lumpy and will probably need to be plumped up to keep it pliable. This is usually a cheaper type of cushion filling.
If you are using foam to put inside your cushions then make sure it is fire retardant.