Making Decorative Cushions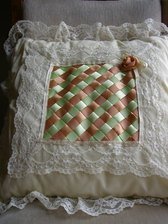 When thinking of decorative cushions, lots of different ideas spring to mind. The word "decorative" means making things pleasing to look at. Other ways to describe this is making them pretty, fancy, colourful, cute or just lovely.
There are so many different patterns, textures and colours of fabrics that this could be achieved just with the choice made.
Attaching lace, frills, simple buttons and many motifs that are available will also turn a plain cushion or cover into a more intriguing one.
There are different sewing techniques that will also help to create the look that you may be after.

Sewing techniques to make decorative cushions
Appliqué - Fabric is cut out in shapes to form a pattern or picture usually and sewn on top of a plain fabric base with a zig zag machine stitch or this could be done by hand as well.
Beading - Different types of beads are stitched onto the cover usually by hand in a picture or random pattern. 
Buttoning - This is where the buttons are used decoratively instead of being a fastening. One way this can be done is by sewing buttons onto a cover in a picture or random pattern but actual buttoning is where there is no opening in the cushion and the buttons are attached to the front and back by being sewn straight through the filling. A pretty button can be used for the front and a clear anchor button used at the back or a pretty button both sides so it is reversible.
Cross Stitch - Kits can be bought or just the Aida fabric so the pattern can be designed. The finished look on some of these are really spectacular. This takes time but is worth it.
Patchwork - Different fabrics mixing, matching or neither are sewn together to form a new patterned fabric. Can be done in different patterns, blocks and colours. Copy the Victorians by letting your imagination run and do some crazy patchwork of your own.
Ribbons - Not only can these be used as a fastening but ribbons are great for decoration either by weaving or just placing on the cover.
Sequins - Different sequins are sewn onto the cover usually by hand to highlight an area, symbol or in a picture or random pattern.
Tie Dye - To get a new vintage look and using different colours these could look very striking. Plain fabric is tied in strips or knots using string or rubber bands. The fabric is then placed into water containing a coloured dye to give straight or round shapes when the string is untied. Multiple colours can be used.
There are many shopping outlets that will have everything that is need to make decorative cushions such as Minerva Crafts.
Enjoy making yours.
Return from Decorative Cushions to Cushions and more

Please take care with any soft furnishing that it does not come into contact with any heat source. 
If you have found an error on this page or want some more information on sewing cushions.
Please contact me . Thank you