Cushion Fastenings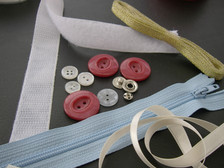 Cushion Fastenings are used to close the removable outer cover over the inner case. Usually these are placed hidden away within the seam or down the centre of the back of the cushion. Sometime the actual fastenings are used a the focal point of the cushion.
There is a variety of different ways that a cover can be closed over the casing. The most popular ones are:

Zips
These can either be fitted into a seam before the cushion/cover has been made up or can be done when the cushion/cover is almost completed. These are made in all sorts of colours and should match in well with your cushion.

Velcro
An alternative to zips and possibly press studs as it can be cut into smaller pieces. The seam allowance needs to be larger as velcro comes in a preset width.

Buttons
With so many types of buttons available these can enhance, coordinate or match into your cushion cover. There are kits you can buy to let you cover your own. You can also use these on the front of your cushion cover for an interesting decoration.

Press Studs
Another good fastening to put into a seam or to attach an motif with. These can be sewn on by hand individually or in strips.

Ribbons
Co-ordinate or compliment your cushions by using the wide variety of ribbons available, these fastenings look great.

Ties
Make ties to match in with the fabric used.


However you can make your own ideas work as well and be individual. The opening made on a cover needs to be wide enough to allow the casing to be removed easily so usually one side of the cushion is used for the gap.


Not confident with putting zips etc in place then the overlap or envelope opening needs none of these.




Return from Cushion fastenings to Cushions and More