Boxed Edge Cushions

a cushion or a seat.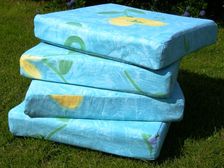 Boxed edge cushions are similar to a simple cushion but this design has a side edge or gusset added to it.This side edge gives the cushion more depth whether it is small or large.

These cushions are usually found on chairs and settees in the living room. This shape is also found on window seats. Having the extra piece between the front and the back of the cushion gives extra strength and is especially good if the cushion is going to need to be hard wearing.
They can be made in any shape and the gusset can be as narrow or as wide as you want it to be. A zip fastening can be inserted in the gusset if it is wide enough to allow the cover to be removed for washing.

These can be used as scatter cushions however they are a bit bulkier and because of this they are a very good design for chair backs and seats.
Uses of Boxed Edge Cushions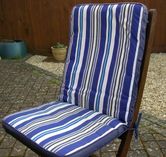 This shape is ideal as cushions for metal, wood or plastic outside furniture, or as seats on their own to take on picnics or used on a bench at sports venues. These are very transportable and could be carried to such events to give extra comfort while sitting.

The filling for this style would have to be firm and long lasting therefore a foam block is usually used.The cover is made to the exact size of the filling to give the smooth fitted look needed. If the cover was larger than the foam block the fabric would sag and pucker and would look as if it is too large.
If a softer option is wanted then polyester wadding can be place around the foam block with extra on the top to provide an added comfort. Although smaller types of these cushions are usually filled without the foam block with whatever type of filling you want.
There is also a cushion design which is similar to this design and is called mock-boxed. This is where the cushion looks like it has a side edge or gusset to it but the corners are mitred or shaped so it gives the impression that it is the same design but in reality it isn't.
Enjoy making your cushions.

Return from Boxed edge cushions to Cushion Designs
Please take care with any soft furnishing that it does not come into contact with any heat source. 
If you have found an error on this page or want some more information on sewing cushions.
Please contact me . Thank you