Choosing Cushion Pads


Sink into the chair surrounded by comfort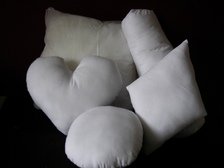 Cushion pads are an important part of making a cushion. These give structure to a cushion and can be regarded as the "skeleton" to support the colourful outer covering.
These can be home made just as easily as making a cushion cover. If your cushion is a different shape, or an unusual size, you may find that you will be unable to buy a pad to go inside. The best part about making cushion pads is that there are no fastenings to insert these are stitched closed so the fillings do not come out.
There are many shops that these can be bought from retailers such as The Range. Some prefer to buy the inside of the cushion so they can concentrate on making the decorative outer casing.
You can also put the loose fillings straight inside a cover without the need for an inner pad. The gap that you put the filling through would then be slip stitched closed. The downside of not having an inner pad would be that the whole item would have to be washed.
With all soft furnishings care must be taken where these are placed as these should not come into direct contact with a heat source.
The synthetic fibres of Acrylic and Polyester are regarded as fire resistant as they ignite at a higher temperature than other fibres.
Chemical sprays can be bought to treat these fillings so that the fire resistant quality can be enhanced.

Types of filling for Cushion Pads


The kind of fillings you use for a cushion pad depends on what degree of support or comfort you are looking for:
Years ago chair seats were filled with straw or horsehair but now there are softer materials such as down and feathers, polyester fibre or wadding.
Scatter cushions need to be soft and supple to let your body mould around them to make you comfortable and give you support.
Cushions for seat bases need to be firmer and are usually made with foam blocks. This foam cut into bits and pieces can also be used as a cushion filling.
You can also mix and match the different filling to get the degree of comfort that you would like. A feather topping could be added to a sturdier foam base if you would like the seat a bit softer.
Bean bags will have polystyrene beads as a filling. This type of filling will allow your body to mould into the contours of the cushion.

Whatever design or shape you need and how large or small you are going to make it, the pad will be made the same.
Enjoy choosing or making your cushion pads.
Return from Cushion Pads to How to Make Cushions
Please take care with any soft furnishing that it does not come into contact with any heat source. 
If you have found an error on this page or want some more information on sewing cushions.
Please contact me . Thank you