Polyester Fibre

a soft centre to cushions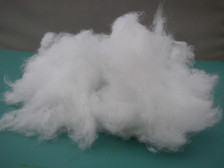 Polyester fibre is manmade, stable and very strong. It has many uses in todays world.
When crude oil is refined a lot of different hydorcarbons are made. For example gas ethane can be coverted to ethylene, this in turn is polymerised to form polyester.
Polyester has 4 types:
Filament - This is where the fibre is in one long length. This is used to make smooth looking fabrics.
Staple - This is where the fibres are cut short and in set lengths so it is easier to mix with other fibres.
Tow - This is where the fibres are also in one length but are more loosely bound together.
Fibrefill - This form is has a large volume and is bulky.
The two types that are used regularly are filament and staple.
The fibre that is used in cushion filling is fibrefill as it is bulky and with that it is soft as well. Although over time it tends to go a little flat so you will need to plump up your cushions to make sure they look full.
It is a synthetic version of down and feathers, with qualities such as being washable and naturally stain resistant.
One of the main advantages over down and feathers is that it is nonallergenic so is suitable for most people.
This fibre is sold as toy filling and is usually sold in bags.
If you wanted to make your own cushion pads then this type of filling would be ideal as it is adaptable to a variety of shapes and sizes.
This filling is also available when buying pre made cushion pads.
These fibres can be woven to make a fabric such as wadding that is used in quilting and sometimes as a filling for cushions as well.