Wadding for Cushions and Quilts

The versatile choice of filling.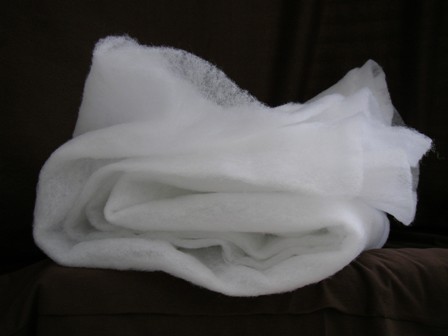 Wadding is made from polyester and is washable. It is supplied on rolls of varying thickness from 2 - 8 ozs.
The thickness used really depends on what you are making.
In  quillows I use 2oz as I find this is manageable on the machine, it gives the warmth needed and this folds easily into the cushion. If I used a thicker version then the cushion would need to be larger to be able to take the extra thickness.
This can be known as batting or compressed fleece in some parts of the world. It can also be made from wool and cotton. These can give the same feel of a thick blanket but work just the same.
Some versions of this fabric are made from silk and would be used by specialists.

Uses of Wadding


This is supplied in bonded fabric form and a cushion pad can be made from this and then filled with loose polyester. Although this would make the pad quite delicate as it will be prone to damage if removed too many times. It is probably advisable to then put this into a stronger material inner cover such as cotton.
It is also used to place between two pieces ( the front and back sections) of material to provide thickness for warmth and comfort as in a quilt or quillow.
Cushion covers - can have a quilted front and this quilted effect gives a totally different look and feel, with the notion that some parts of the cover is actually leaping in front of the others, almost a 3D effect. The cushioning would be placed between the front and back sections as for the quilt or quillow.
Little pieces can be use to give fill a sewn section to make a relief effect and have these small sections of sewing stand out.
Bolsters can be filled with this type of cushion pad as it can be rolled up and then placed in a stronger inner cover.
Apart from using this as a cushion filling it is good to be used to simulate snow landscape if doing a window dressing at Christmas or under the tree.
Small pieces can be used to fill Christmas tree decorations.
Many shops and on line outlets such as Minerva Crafts. There is also an Amazon search box to see what is available there.
Enjoy using wadding in your cushions and quilts.
Return from Wadding to Cushion Filling
Please take care with any soft furnishing that it does not come into contact with any heat source. 
If you have found an error on this page or want some more information on sewing cushions.
Please contact me . Thank you