Zip Fasteners

one of the most popular cushion fastening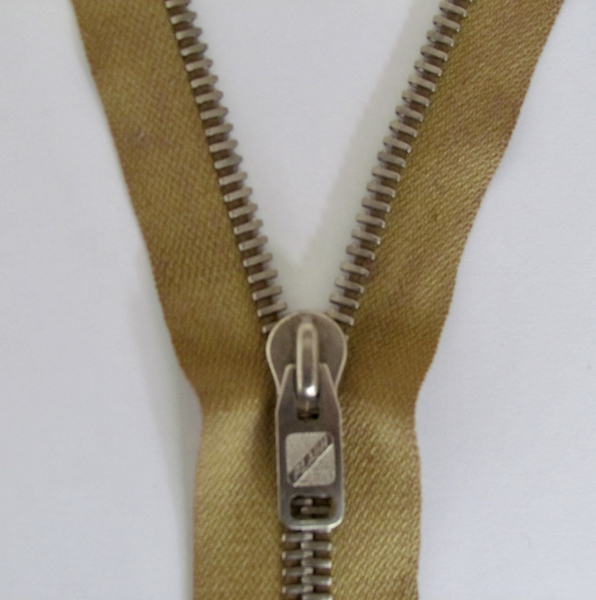 Zip fasteners are made by having either metal or plastic teeth along the edge of two strips of fabric, these are then interlocked together with the help of a slider as it is pulled up or down the fabric strip.
These are just one type of fastening with others being Buttons, Velcro, Ribbon, Press Studs, Hook and Eye and Tie.

The first type of this slider fastening was invented by Whitcomb Judson in 1893 to help close men's button boots and a more complicated version of a hook and eye fastener. He set up the "Universal Fastener Company" to make these.
This design was improved upon some 20 years later by Gideon Sundback when he was working for the company now renamed as "Fastener Manufacturing and Machine Company".The company name has changed over the years and eventually he set up his own company and also invented a machine to make these items.
These started out on boots and in 1925 they were used in clothing. The name zipper comes from North America and it stuck.
In the 1930's zippers were promoted as a way to help children dress themselves in a variety of different types of clothes as part of a sales programme.
Ways of inserting a zip fastener into a seam

Sewing Cushions
These are probably the most popular in all of the different types of cushion fastenings. They are fairly strong and the colours can be matched to the cover. They come in variety of different lengths to suit most sewing projects.
To find the length needed for your cushion measure about 2.5 inches or 6 centimetres shorter than the length of the opening edge of the cushion.
They are usually placed on a straight edge and within the seam so hidden from view. However they can also be placed in the centre of the back for complicated patterns. For example if the cushion was in the shape of a heart.
Sometimes it is easier put these in first before finishing the rest of the cushion as it can be a little fiddly.
Sewing Clothes
Inserting a zip into a dress
Inserting a zip into a skirt
Again a very popular fastening, these can be hidden into the seam in a few different ways and more recently the zip fasteners on dresses have been made into a fashion statement by being made visible and in a totally different colour from the garment.
The Development of the Zip Fastener
The first zips were made with metal teeth fixed down the side of fabric tape and with the development of plastics the teeth were then made out of plastic.
They come in a variety of sizes and look very neat whereas the ones wit metal teeth can look a little bulky but also great for items that need strength.
These fasteners began to replace the traditional button fastening on some clothing. In the late 1930's these were used in mens trousers.
Nowadays there is such an array of different types of zips:
Closed end - These open at one end and are used in clothing and many accessories.
Double or open ended - These are open at the top and bottom as those used in jackets.
Invisible zips - These are closed end zips and the teeth are behind a tape so they can't be seen. The teeth and fabric are coloured to match in with the fabric a garment is being made from so will look invisible.
Magnetic zips - usually used in sportswear and can be operated with one hand.
Two way closed - these are usually used in luggage where there are two sliders 
These are just a few with more being design for many different things.
Many shopping outlets both on and off line have a large choice of many different zip fasteners.
Please take care with any soft furnishing that it does not come into contact with any heat source. 
If you have found an error on this page or want some more information on sewing cushions.
Please contact me . Thank you