Zip Fasteners

the popular cushion fastening

Zip fasteners are made by having either metal or plastic teeth along the edge of two strips of fabric, these are then interlocked together with the help of a slider.
These are just one type of fastening with others being Buttons, Velcro, Ribbon, Press Studs and Tie.

The first type of slider fastening was invented by Whitcomb Judson in 1893 to help close men's button boots. This design was improved some 20 years later by Gideon Sundback and the birth of the types used today.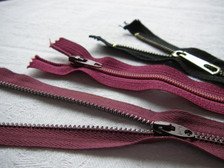 These are probably the most popular in all of the different types of cushion fastenings. They are fairly strong and the colours can be matched to the cover. They come in variety of different lengths to suit most sewing projects.
To find the length needed measure about two and a half inches or six centimetres shorter than the length of the opening edge of the cushion.
They are usually placed on a straight edge and within the seam so hidden from view. However they can also be placed at the back for example if the cushion was in the shape of a heart.
Sometimes it is easier put these in first before finishing the rest of the cushion as it can be a little fiddly.
Inserting zip fasteners into a cushion seam.

Your fastening should be about 2 1/2 inches (6cms) shorter than the desired opening. With right sides of the material facing arrange the fastening along the opening edge keeping equal distances from the cushion edge. Mark the opening edge with pins.
Sew the seam with normal machine stitch length to the start of the teeth. Back stitch to secure threads. Change the machine stitch length to the longest (tacking) length and continue sewing until you reach the end of the teeth. Back stitch to secure the thread then change the stitch length back to normal machine stitch and continue to the end of the seam.
Press the seam open and place the fastening along the middle of the seam, pin or baste in place.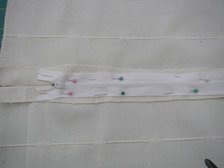 Using the zip foot on the machine, sew along one side of the fastening leaving a gap from the teeth. Sew across the bottom below the end of the teeth, up the other side and across the top of the teeth. Secure thread.
Using scissors or a seam unpicker carefully remove the tacking stitches to open the fastening.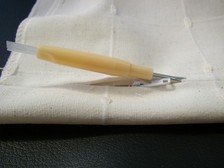 Sew the rest of the seams, turn right side out, put in the cushion pad and close the fastening.
There are other ways of inserting a zip and to insert one after the cushion cover has been made is described in the how to section.
These fasteners can be bought from many different shopping outlets.

Return from Zip Fasteners to Cushion Fastenings
Please take care with any soft furnishing that it does not come into contact with any heat source. 
If you have found an error on this page or want some more information on sewing cushions.
Please contact me . Thank you