Buying Cushions
Ready made.


Home decor is important for relaxing, comfort and getting rid of daily stresses. Buying cushions enhances all those issues. Choosing ready made cushions for your home gives an instant effect to the room and the look the room gives.
There are so many different online and offline outlets and shops that have all the different shapes, sizes and colours anyone would want to choose from. 
When the home decor has been decided the cushions are the finishing touches so don't forget them. Cushions can also enhance the curtains you may need as well so these can either match or contrast.

Things to consider when buying cushions


There are still a few possible points to decide upon when buying and choosing cushions.
Apart from the colour (of which there are thousands), the shape and design, the texture of the fabrics, the type of fastening and the suitability of the room where it will be are just a few.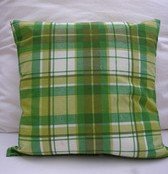 What comes into the mind when talking about cushions? Most will image a small square padded one that goes behind the back when sitting down but just thinking about a chair brings lots more to mind.
When looking cushions for chairs there are a lot of different basic elements to this.
Other chairs that can can uncomfortable when sitting on them for a long time are hard wooden chairs so buying dining chair cushions or kitchen chair cushions will enhance these.

---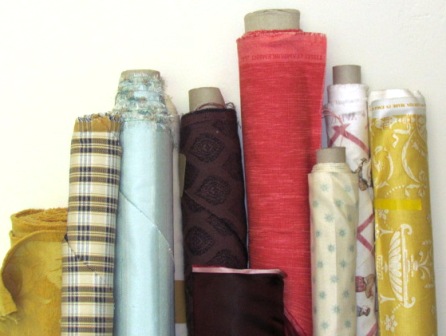 There are so many available that where it is going to is also a decision to make if the one you are buying is to sit on the floor in a family room then the fabric would need to be quite strong and washable however if it was going to decorate your bed then a more delicate fabric would be fine.
Some are more suitable than others especially if being used outside or in the kitchen. 
Water resistant, waterproof or wax cloth fabrics can be used in these areas. Washable fabric for the kitchen is advisable for any spills.
Delicate fabrics can be for areas that have little use and strong fabric for areas that have a lot of wear. Between these two are so many different mixes and blends that would suit most rooms.
---
Cushions can be different designs and sometime the bolster or elongated ones may be more suitable especially if filling in small gaps behind the back or the neck. 
They are also great for acting as an arm rest when placed at the side of an outdoor bench.
Beanbags and larger cushions on the floor are great for lounging in or for the children to have their own space.
---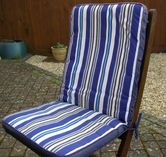 There are also those used on outdoor furniture such as bench cushions, these make patio seating very comfortable.
Hard plastic or wooden chairs also benefit from and cushion seat at the base and the back.
Garden centres can have a really large choice of outdoor furniture to suit all types of situations. The Range has a lot of choice as well.
---
---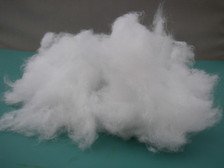 The pad or insert with the right type of filling is going to be a choice if you have got any allergies.
Most bought inserts are polyester fibre but feather and down is an option that a lot of people like due to the fact it feels cooler in hot weather.
Buying cushions and furniture from shops or online outlets will have the correct fillings for that type of cushion. 
---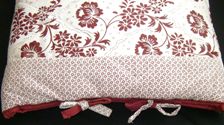 Sometimes the type of fastening on a cushion may need to be taken into consideration especially if there may be difficulty in using certain ones like ties or buttons and covers with press studs or velcro could be a better choice.
Buying cushions from shops usually have zip fasteners these can be a bit difficult to open but tying a ribbon on the zip head or something else to hold onto can solve this.
---
This list can be never ending if you think of all the aspects of living that has some sort of cushion.
Another factor to take into consideration is the person who needs this cushion. Is it just for a little more comfort or is it to make pretend dens and houses. Will it be taken outside, on holiday or in the car?
Perhaps this is for a feline or canine member of the family so washable is the key.
Cushions don't need to be plain as there are lots of lovely embellished ones in the shops as well that could highlight some part of the decor.
The cushion that is going to be bought will give lots of pleasure and comfort so enjoy choosing the right one for you.

There are lots of ready made cushions and covers at Amazon. Why not take a look.
Enjoy buying cushions.
Please take care with any soft furnishing that it does not come into contact with any heat source. 
If you have found an error on this page or want some more information on sewing cushions.
Please contact me . Thank you