Ribbon

for decoration or a purpose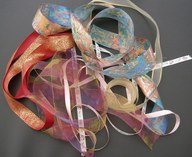 For years ribbon has been used to decorate clothes and soft furnishings. They add an instant lift or embellishment to the garment or item.
In Cushion making these can be used in a variety of different ways,
They have a functional use and can be used as a fastening. A narrow variation will add to the look of a delicate cushion. Whereas a broader variation can be used to fasten a bulkier cushion especially if a co-ordinating cover is underneath it as there will be gaps showing.


These can be made into cushion covers themselves by sewing individual wider strips together to form a new ribboned fabric. This can create some wonderful looks with the vast choice of colours available.


A whole different type of cushion can be made by weaving these strips together either to make a complete cushion or a centrepiece with a border. There are many ways to do weaving from very simple under and over with two colours to the more complex variation of using diagonal patterns in two or three colours. There is a good picture of this in the cushion gallery, as the 3D effect really has an impact on the look of the cushion.
Many use these purely for decoration to highlight a hidden colour in the material or to give a contrasting look or edge. These can be machine or hand sewn onto the cushion cover as no hemming is needed as the edges have been finished off as they were made. Although decorative can also lead to functional as well, as with the alternative quillow front. I used them to decorate the front but they were holding the wadding in place so it didn't slip and ruin the look of the quillow.


This versatile item can be used to make things like flowers, fragrant lavender holders and many others. Cards can be decorated with these as well.
Pretty bows can be made out of this wonderful fabric and then these in turn can be used to decorate cushions of all sizes.
Although used for a lot of years, modern machinery and printing effect have given us a wide range of colours, widths and designs. There should be no trouble finding the right type for your creation. You may possibly have trouble deciding which to choose.


Types of Ribbon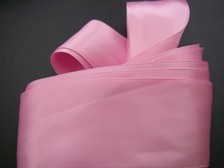 Satin - This come in a single faced where one side is shiny and the other dull. Another type is the double faced and this type have both sides shiny and is usually a bit thicker. The edge of the double faced is sometimes decorated.

Polyester - The choice of this range is very vast with a large selection of colours, patterns and finishes like crepe. The patterns on those made from polyester can either be printed or it can be woven to make a tartan pattern.

Velvet - These have a raised pile and are usually made in either cotton or nylon. They also come in single or double faced like satin.


Taffeta - These come in a lot of colours. They look flat and not shiny with a water mark finish. They sometimes have a metallic edge.


Metallic - These come in a few finishes and are usually woven from lurex or other metallic fibres.
There are other types as well such as those having a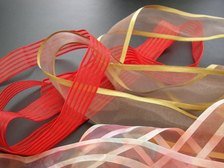 Sheer Look - These are good for making flowers and sometimes come with satin edges or a stripe in the middle.
Grosgrain feel - These have a ribbed effect and are strong. These can be bought in a lot of colours, as well as some patterns and stripes.


Jacquard Weave - These can have a raised design and come in floral, geometric or metallic designs.
With such a choice of different types of ribbon you can really have a a lot of fun trying different ways to decorate your cushions.

Return from Ribbon to Decorative Cushions
Return from Ribbon to Cushion Fastenings
Please take care with any soft furnishing that it does not come into contact with any heat source. 
If you have found an error on this page or want some more information on sewing cushions.
Please contact me . Thank you