Velcro Fastening

another popular cushion closure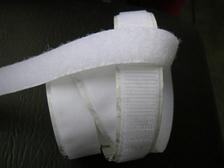 Velcro fastening is made up of two halves, one half contains little hooks and the other half made up of loops.
The way this type of fastening works is that when pressed together the hook side attaches to the loop side keeping both pieces of material in place.
This was invented by a Swiss engineer, George de Mestral in 1941. He looked into what made plant burrs stick to his socks while he was out walking in the woods. He then came up with this idea as he investigated natures design of the burrs.

Originally he had a couple of strips made up in cotton but then he decided to use nylon as this was longer lasting and could be made in different thread thickness's.
Different types of Velcro Fastening

This fastening is very strong and long lasting. It is made to be easily opened and can be done and undone many times. It has been used in quite a lot of different area other than soft furnishings, such as on footwear, all types of baggage, camping and other sports to name just a few.
It can be bought in strips or little spots. The spots are good when you want to attach removable motifs.
The strips come in a set and different widths therefore the opening edge of the cushion may have to be a bit wider than usual to allow for the set size.It also comes in a few different colours so you would be able to get a close shade to the material you have used.

Also available is a sew and stick version. I have used most types for different projects and have attached net curtains to a window with the sew and stick type.
This fastening is sewn in place, a little bit like putting in a zip, and is good for cushion covers except those made from very fine delicate fabric as it will appear far too bulky for this type of material.
It can also be useful in keeping the seat cushions in place on a chair especially if the chair is made from wood like a rocking chair.

When washing the covers the fastening halves should be pressed together otherwise it may pull the fabric itself and possibly damage the look, not to mention it will attach itself to other items.
Many shopping outlets have a large selection of different types. 

Return from Velcro fastening to Fastenings
Please take care with any soft furnishing that it does not come into contact with any heat source. 
If you have found an error on this page or want some more information on sewing cushions.
Please contact me . Thank you