Are Buttons for decoration
or for fastening?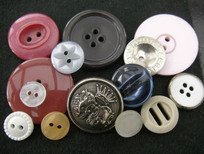 Back in medieval times before buttons where invented, garments were tied closed or brooches or pins held them together.
The humble buttonhole was invented in the thirteenth century and the early type of buttons were made from natural things like shells, wood or bone.
These are classed as a fastening used for holding two pieces of fabric, for example the fronts of a jacket, by going through a loop or a buttonhole.
This fastening has been used since the late fourteenth century. Today in day to day life they are part of fastening clothes, footwear, soft furnishings, as closures for duvets and other items that want or need a traditional type of fastenings.
About two thousand years ago they were mainly used in decorative ways. Today they are used as decorations like deep indents on a bedroom headboard, an upholstered chair, on clothing and soft furnishings.
In earlier years they were made out of horn, seashell, pottery, coconut or gold. The really fancy ones have always been used as a sort of status symbol with some designs becoming the logo of fashion houses.

Types of Buttons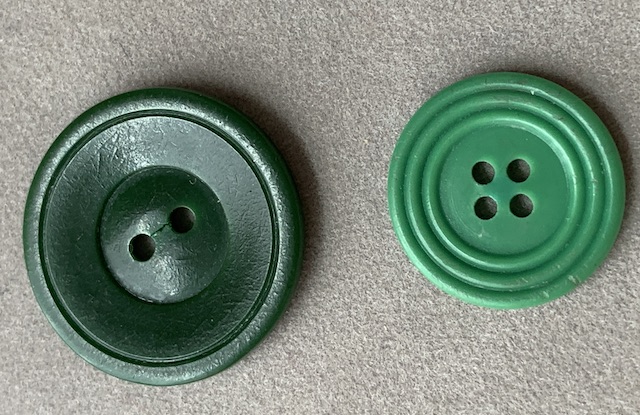 Flat Buttons
These buttons sit tightly up the the garment or item they are being attached to.
These come in many different sizes and colours and can have either two or four holes in the centre.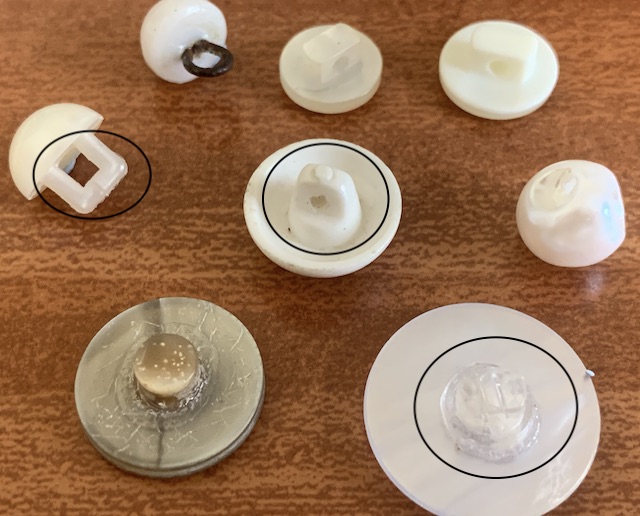 Buttons with shanks
The black oval shapes are showing the shank of the button that is attached to the item.
Buttons with these tend to be more rounded in shape where putting a hole through the centre would spoil the look.
These tend to stand above the garment when attached but fasten to the garment equally well.
Covered buttons
These will always be buttons with a shank and kits can be bought to allow fabric to cover a dome before the base is attached.
This is a good idea if the buttons are to match the item and in doing so, are nearly not seen.
Using bought kits, pieces of fabric to either tone in or compliment the look with a contrasting fabric. The fabric can be made especially for the individual by designing your own design with cross stitch, embroidery or different needlecraft ideas.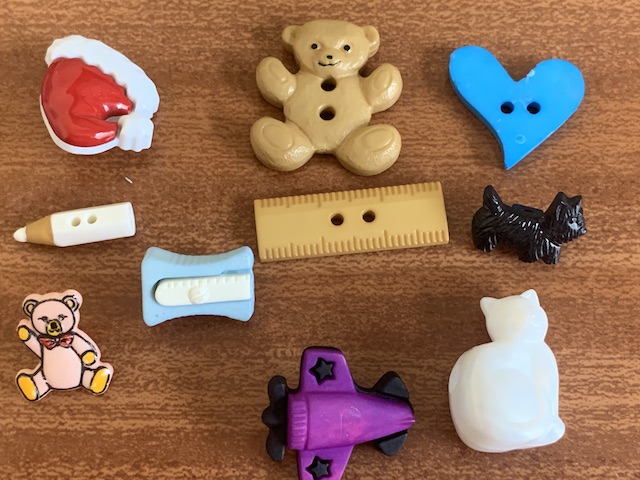 Shaped or Novelty buttons
Buttons that are shaped add some fun to the garment or item. 
Depending of the shape they will be either flat or have a shank.
Cross Stitch pictures can be made using these type of buttons and look really effective.
Decorative buttons
Those made from pearl have been used in decorating the clothes of the pearly kings and queens of London, England.
This began in the nineteenth century with an orphaned street cleaner called Henry Croft.
He used to collect money for London based charities and formed a pearly society in 1911. The organisations are still going strong today.

As well as pearl buttons, other decorative buttons can be in gold or silver metal.
Buttons 
For fastening
All the buttons above will act as a fastening if attached to a garment that has buttonholes. Make sure that the button is the right size and fits the buttonhole so it will not come undone accidentally.
If cushions or cushion covers are bought with buttons it is a good idea to know how to sew a button just incase one ever falls off.
For decoration
Cushions and their covers can be enhanced by these being both functional or decorative. Both ways can be achieved on a cover if the opening is at the front and the buttons are contrasting to the material.

These decorative fastening provide a colourful alternative to zip fasteners but making the holes can be a little tricky. 
They can be used to give a fancy topping when sewing in press studs or poppers. If you are using Velcro to fasten your cushion then why not sew some on to enhance a theme or a shape.
Buttons for Crafts
Buttons need not just decorate cushions and cushion covers as button craft is popular where pictures are made using the many different sizes of buttons.
This can be a mixture of some sewing as well as collage if extra enhancement are stuck on like bits of ribbon or lace.
Kits can be bought to get a beginner started but also a design can be drawn onto a piece of fabric or cardboard to begin sewing or sticking the buttons on.
Sewing buttons onto cushion covers
When using these to close the back or front of a cushion the two halves of the fabric should be overlapped approximately 2 inches (5cms).
There is no hard and fast rule with this and if you would like a wider or narrower overlap then that is also fine.
A band of interfacing fixed to each side would also strengthen the edge of the fabric and hopefully stop gaping.
However you use buttons is completely personal and for me a button box is like a treasure trove to delve into an look at all the different shapes, textures and sizes.
Enjoy...
Please take care with any soft furnishing that it does not come into contact with any heat source. 
If you have found an error on this page or want some more information on sewing cushions.
Please contact me . Thank you