A Ribbon Cushion
by Evelyn
(West Midlands)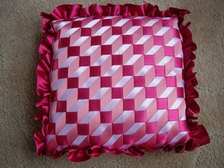 I made this years ago when I attended a class at the local college.

Basically two different shades of the same colour of ribbon are woven together to make a patchwork design and then the third ribbon is threaded diagonally to make the wonderful 3 D effect.

I thought this looked great and it really stands out.
Click here to read or post comments
Please take care with any soft furnishing that it does not come into contact with any heat source. 
If you have found an error on this page or want some more information on sewing cushions.
Please contact me . Thank you