Types of Cushion Fastenings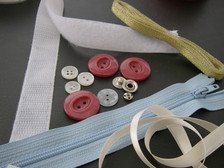 The purpose of cushion fastenings are to close the removable outer cover over the inner case so the cover can be taken off and washed without washing the insert. There are also ones that have the insert sewn in and then the whole cushion would have to be washed.
When you are buying ready made cushions this could be one of the points to look for.
The fastenings are usually placed hidden away within the seam or down the centre of the back of the cushion.
Sometime the actual fastenings are used a the focal point of the cushion or these could serve no functional purpose but be a decorative design.

The Different Types of Cushion Fastenings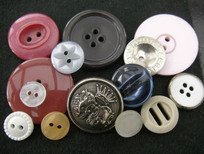 The humble buttonhole was invented in the thirteenth century and the early type of buttons were made from natural things like shells, wood or bone.

These are classed as a fastening used for holding two pieces of fabric, for example the fronts of a jacket or in this case a cushion cover by going through a loop or a buttonhole.
With so many types, shapes and colours of buttons available these can enhance, coordinate or match into the cushion cover.
These are sometimes placed on the front of the cushion cover for an interesting decoration that has no fastening intentions.

Large letter pictures can be bought using buttons and many craft projects use buttons in one way or another.
Hook and Eye
This fastening is probably the lesser used these days as more modern and easier fastenings have been developed.
In a rough shape this fastening has been around since the 14th Century as a curved piece of metal hooking into an eye shaped metal piece.
These are used mainly as a bra fastening and closing the neckline or waistline above a zip.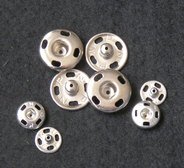 These are also known as snap-fasteners or poppers and were first patented by Heribert Bauer. 
He was a German inventor and used these as a new fastening for mens trousers. He used a S shaped spring on the top disc instead of a grove.
This is another fastening that is put into a seam either as a single popper or on a strip so it can be used like a zip.  
Press studs can also be used to attach a removable object that may be on the cushion.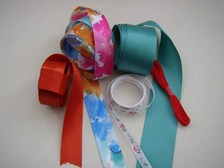 Where would we be without these wonderful, colourful trimmings. They come in many different colours, widths, textures and patterns that make everything stand out.
They give a sense of elegance and something a little out of the ordinary.
These can be used to tie the back of a cushion cover closed and the colour can be the same colour as the cushion or coordinating with the colours.
Scatter cushions can have their decorations made entirely out of ribbons and these can be used to anchor a seat pad to the back of a dining room or kitchen chair.

Tie fastenings are similar to ribbons as these both fasten a cover over the cushion insert.
Ties can be used to compliment or contrast with the cushion fabric. These tend to be a bit thicker than ribbons as they are made out of a tube of fabric and then turned inside out.
This type of fastening is used on outdoor furniture cushions to hold the cushion to the wooden or metal chair or bench.
Sometimes covers can fit tightly over the casing or to show a contrasting fabric beneath the top cover may have gaping ties so that the inner material could be seen between the edges of the outer cover.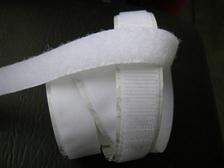 Velcro fastening is made up of two halves, one half contains little hooks and the other half made up of loops. 
The way this type of fastening works is that when pressed together the hook side attaches to the loop side keeping both pieces of material in place.
This was invented by a Swiss engineer, George de Mestral in 1941. He looked into what made plant burrs stick to his socks while he was out walking in the woods. He then came up with this idea as he investigated natures design of the burrs.
An alternative to zips and possibly press studs as it can be cut into smaller pieces. The seam allowance needs to be larger as Velcro comes in a pre set width.

This is used to hold some overlap covers closed and is very useful in shoes and clothing.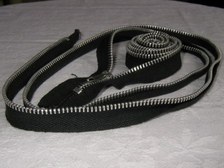 The first type of this slider fastening was invented by Whitcomb Judson in 1893 to help close men's button boots and a more complicated version of a hook and eye fastener. He set up the "Universal Fastener Company" to make these.
These come with metal or plastic teeth and are probably the most widely used type of fastening.
Buying ready made cushions  will usually have ones that match the colour of the fabric. They can also be used as a strong contrast to stand out and be seen.
Out of all the types of cushion fastenings the zip fastener is probably the one most used as they come in varying lengths, many colour, wash easily and can easily be opened and closed.
Please take care with any soft furnishing that it does not come into contact with any heat source. 
If you have found an error on this page or want some more information on sewing cushions.
Please contact me . Thank you