Changeable Cushion Covers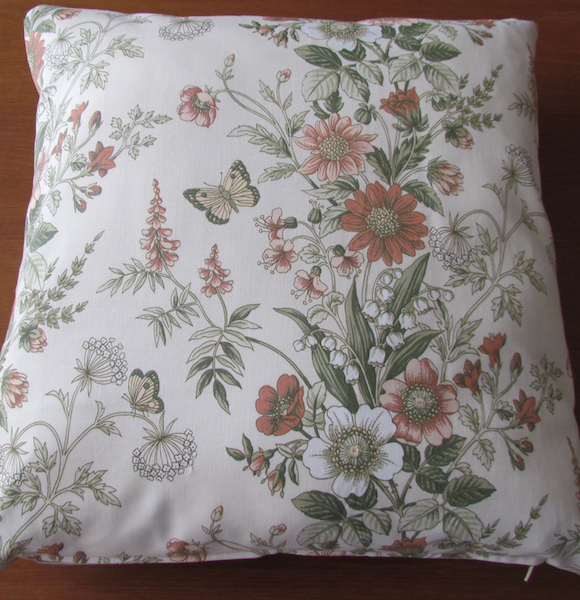 New cushion covers can be bought in lots of different places both on and off line. As well as cushions. Buying different cushion covers can
Brighten up a plain chair or settee
Bring a room right up to date with the colour of the year
Tone down a jazzy settee or chair
Picture ones show off your favourite pet or animal
Textured ones to give a different feel and warmth when sitting
A cushion is basically made up from a cushion insert and a cover. When a cushion is bought the cover is usually removable by having different cushion fastenings attached to it so this can happen.
These covers can be replaced often especially when the ones in use are being washed or dry cleaned.
Celebrating the seasons can be done with colours or flowers that grow at that particular time, festivals brings lots of opportunity to change the covers again to celebrate that special time.
Funny decorative covers can bring joy into the room especially in the winter months. These would put a smile on any face when seeing them.
Cushions and their covers are one of the many aspects of home decor so there is no right or wrong way. The correct way is the one that pleases the person who will be seeing it day to day.
Benefits of Buying Cushion Covers
 
Buying a cushion cover on its own is usually cheaper than buying a whole cushion with a cover. This also depends on the type of fabric you choose for your cover. Silks or silk blends will be more expensive than cotton or linen blends.
A cover can reflect your likes, favourite flowers, animals or natural views. Sometime it is just the look of the fabric or the decorative stitching or patterns that makes you want to take it home.
Different shaped cushions will need the same shaped cover to be able to fit around the insert. Amazon have some lovely different shaped cushions that will really brighten up a room. There are some that look like logs and bits of wood to enhance a natural look.
After decorating a room there may be a need to highlight a colour that didn't show itself at the start, or a dash of colour to an almost neutral theme. A cushion cover or two will make that stand out.
Cushion inserts over time will sag and lose some of the plumpness to its look. For a while these can be shaken up so the cushions looks it full size but eventually a new insert will be needed.
Think about buying a cushion and a couple of different covers to ring the changes every now and again.
Decorative effects on cushions and covers


Decorative cushions and cushion covers may be very simple and just be a characteristic of the fabric that the cover is made from. This could come in the form of extra fluffy fleece fabric or one that is made from wide corduroy fabric.
Another way to add interest to a room are knitted covers these can be from actual yarn or knit effects fabric. Knitted or a knit look cover is enhanced even more if there is a cable or twist panel at the front. Fabric can also have a shiny look, and these will all enhance the look of the room. Take a look at some textured cushion covers on Amazon.
Frills whether they are around the edge making the whole cushion a frilled one or used as a decoration on the front panel as most of the back panels are left plain.
Sometimes a patterned fabric is overstitch in small area with embroidery and the result can be spectacular. Little mirrors are also sometimes stitched within the embroidery to add a shimmering effect.
Pompoms and tassels are another decorative effect as well as beads and buttons. These can also be the way to close the cover over the cushion insert.
The covers themselves can have additional attachments added to them and this will allow a common shaped insert to be used for the main body.
A example of this would be an elongated cushion cover that has little legs and a face sewn on fitting over a bolster cushion insert. This results in a centipede cushion for a children's room.
Another example would be padded petal shapes attached between the front and back sides of the covers, when a round cushion insert is put into place the cushion is a flower.
Sometimes the fabric is so soft and touchable like with faux fur, velvet, fleece or brushed cotton.The cushion covers can also show an animal's face with shiny fabric on the nose again giving a different fabric feel. These covers are ideal for sensory feelings and can give a sense of calm.
There are really lovely cushions and cushion covers that are found both in shops and many online retailers .
Enjoy choosing your covers.
Please take care with any soft furnishing that it does not come into contact with any heat source. 
If you have found an error on this page or want some more information on sewing cushions.
Please contact me . Thank you