How to make cushions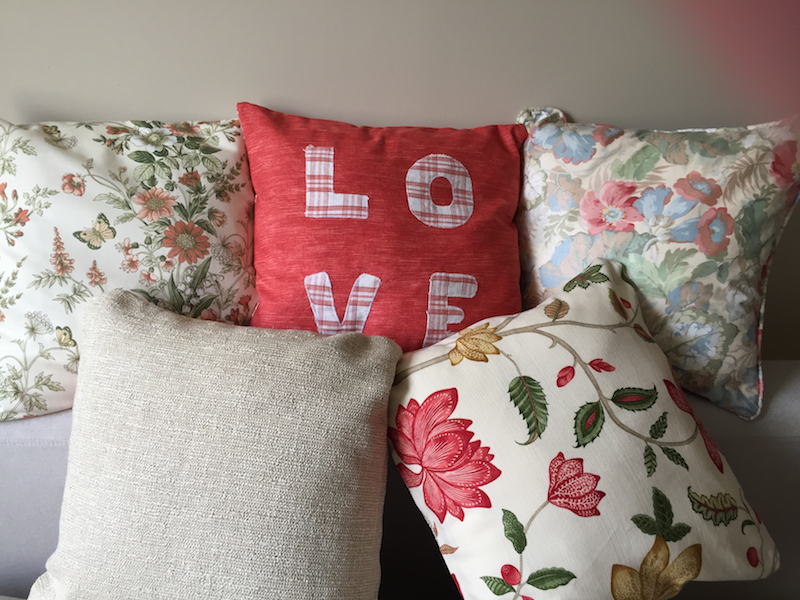 Wondering how to make cushions can seem quite daunting. Some can be made in a very simple, basic way and can be a good way to learn how to
start sewing,
get used to a sewing machine
get used to the basic stitches
This can lead to more complicated sewing such as
putting in zips,
sewing in gussets
sewing different shapes.
Before you know it you will be onto making clothes.

The one part I love about sewing is that you are the designer, there are no hard and fast rules. If it is how you like it then it is perfect.
Enjoy and experiment with the lovely fabrics, but most of all have fun.
There are a few considerations to think about such as
what room is the cushion for?
Does it need to be hard wearing?
This will then give the question of what type of fabric to use. It can feel like a never ending list but once these have been made the sewing process will flow. 

How to make cushions - Preparations Before Sewing


There are a few elements to consider which are the same as if you are buying a ready made cushion.

These are deciding on what design whether iit is boxed, frilled or bolster etc. Usually cushions are square but is this the shape you want?
The bolster shape fits nicely into the small of your back or the back of your neck for support. These also fit well by the arm of a chair or settee.
Getting the right fabric for where the cushion is going to go is a must as well. Delicate fabric is not so good for a playroom where it could get damaged easily but are great for bedrooms.
And then decide on the filling if you are going to make all of the cushion, but no need for this decision if you are covering a existing cushion. Although one of a particular style or non standard size may need to be made.
Pre made cushion inners are available is many on line and high street outlets to help with your cushion making.
Once you have decided on these then the actual making of the cushion can begin.
Not all cushions need a pattern but if this would make you feel better and give step by step instructions these can be bought.
Patterns can also be made as well or just cut the fabric to the right size.
Sometimes the type of fastening can decide the width of seam to make for the opening. Hook and loop fastening is a set width and would look odd if the seam was narrower.
By using vintage fabric and look some "new vintage" cushions can be made.
How to make cushions to your design


Different items like a frill can be added which can be a single or double one using the same or contrasting fabric or one of each.
Making a gusset will give depth and are usually used when making seating for outside chairs or chair bases.These are called box cushions.

Fastenings can be hard to fix into place and practising will make it easier. Sometimes fastenings are also used as decoration. There is one cover that has no fastenings at all.

These can be made by using a lot of different crafts and made in traditional patchwork patterns or experiment on your own patterns.

Other decorations such as embroidery, cross stitch or appliqué turns the simple cushion into a complex decorative addition to compliment any room.

Cushions with a Difference


Not all cushions are the same but they all help in our lives, where would we be without a soft knee protector when kneeling on hard surfaces or one that is holding the pins or patterns securely while making lot of items.
Some have jobs to do and help around the house and garden. While others hide a quilt inside that can be used as an extra cover when the temperature falls. This could be while camping, travelling or sitting watching television.
Many handicrafts and sewing crafts produce lovely cushions.

Decorative Cushions or Pillows


This type of soft furnishing are known as pillows in some parts of the world. They both are used in the same way as a decoration for your room or for added comfort while sitting.
There is such a lot of lovely fabrics available in lots of different colours and designs to suit most homes. There are many outlets such as  Abakan as well as a few more on my shopping page.

There is a lot of scope for your imagination in all aspects of sewing so have fun in learning how to make cushions and enjoy.
Please take care with any soft furnishing that it does not come into contact with any heat source. 
If you have found an error on this page or want some more information on sewing cushions.
Please contact me . Thank you