Welcome to the Cushion Gallery

the showcase for your cushions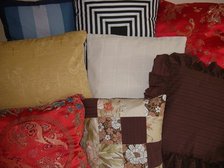 The cushion gallery has been created this page for YOU, visitors to my site, so that you can show how creative you have been in making a cushion, cushion cover, or a cushioned item. Be it very simple or complicated everybody's idea of achievement is very different and all will be respected.
Have you just finished a cushion or cover that you may have worked on for a long time. The end result is much better than you thought it would be and it looks fantastic....
Have you just started sewing and you have made your first cushion or cover or any other cushioned item that you are really proud of....
Have you tried to do a more complicated sewing project that looks just great....
When I am building the pages for my site and describing the different ways of making cushions. I make them so I can take pictures at every stage to help with the explanations.
One kind of sewing work I had never done was reverse applique.
This took me a long time to make but when it was finished I was really pleased with the result and the effect cutting away the fabric gave. I made a few mistakes along the way and for me the hardest part was to think of a picture to draw and getting all the layers of material in the correct order.
Sometimes sewing is done for an exam and is never seen again, it just may inspire others into getting the sewing machine out. I know that my daughter spent ages on making glove puppets for her GCSE, she got a good grade but these are now stuffed away in a cupboard.
In showcasing your work you will have your own web page and hear any comments from other visitors who come to this site.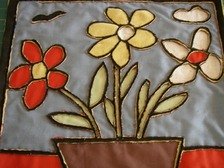 ---
Please do not use this form for a general enquiry use contact me so I will be able to contact you.
View Cushions Other Visitors Have Made
Click below to see contributions from other visitors to this page...

Please take care with any soft furnishing that it does not come into contact with any heat source. 
If you have found an error on this page or want some more information on sewing cushions.
Please contact me . Thank you
Return from Cushion Gallery to Cushions and more