What is Patchwork?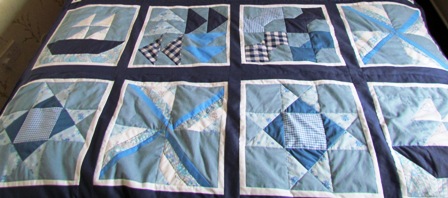 What is patchwork? For those people who are not really into making things or have just started out, this may be a question to ask.
Patchwork is the creation of making new fabric from bits and pieces of new, old or worn fabric. This can be done using small squares, long strips or with shapes to make a picture or a block. The most common shapes are hexagons, squares, diamonds and rectangles.
Traditionally when looking back into patchwork history these blocks showed scenes from everyday life, plants grown, beliefs and things used. In these times fabric was scarce so good bits of fabric from worn out clothes were saved and reused. 
Many types of quilts patterns can be made using the log cabin block with each giving a different look depending on the shading of the colours of the fabric.

What is Patchwork?  Ideas to do and make.


The best fabric to use is cotton or a high cotton mix as these tend not to stretch as this would distort the finished result.
Usually but the fabrics blend together in colours but there is always room for bright vibrant none matching ones as well. Crafters Companion and Minerva Crafts have a good selection of fabric if you need extra bits.
When sewing blocks it is essential that the fabric shapes are cut out as accurately as possible trying to keep everything square so the block will fit together. This will be really helpful if the blocks are then to be made into a throw or quilt as shown in the one above.
The different patchwork blocks can be used to create a beautiful quilts. These can be made using individual blocks of all the different designs or all the same design and then joined together. 
Different Types of Patchwork Blocks 


Using sashing or material strips between the individual blocks and then borders to complete the edges gives a different look to that of attaching the different blocks to each other. Both quilts will look great but also different. In both designs each individual square, block or patch needs to end up the same size.

Abstract quilts can be made using different shapes and experimenting with different ideas can give stunning results. That is the one thing I love about sewing, it can always be unpicked if the look isn't what was wanted and I also have done a lot of that.

Hope this has helped to find out what is patchwork.
Have a go and enjoy making your patchwork creations.
Please take care with any soft furnishing that it does not come into contact with any heat source. 
If you have found an error on this page or want some more information on sewing cushions.
Please contact me . Thank you