Organising Your Sewing Storage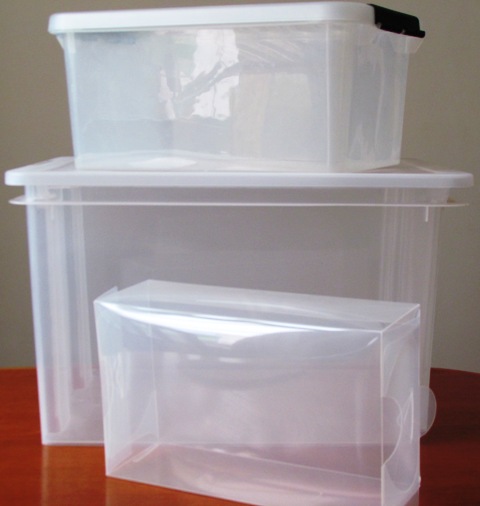 Sewing storage containers come in many different sizes and their aim is to help to keep the craft shelf, cupboard or room neat and tidy so items are easily found.
These range from large boxes for fabrics to the small ones for storing buttons. Each one extremely useful in its own way with many have multitasking storage ability.
Depending on the type of sewing or craft that is done will guide the size of the storage.
Handicrafts such as cross-stitch or tapestry will need a smaller space than making quilts.

Types of Sewing Storage


Shelving, Cupboards and Drawers
Shelving is useful to have, as the space is more vertical so takes up little floor space and these come in many different widths and sizes just right for keeping things on to make finding items a lot easier. 
Some shelving can have doors on them turning them into cupboards so the stored  items are not on on show.

While browsing on line I have seen a lovely craft cupboard with a pull out table, shelving and drawers that would keep everything under control but with it came a large price tag as well. 
If the craft area is part of a bedroom then a wardrobe could be use so the sewing area wouldn't look out of place. Extra shelves could be inserted where the hanging space is found and some come with drawers either on the side or at the bottom.
There are many multi drawer units to help keep different items separate and easy to find. That will also blend in to the room decor.
Boxes and Bags
The type of boxes chosen can vary a lot and are not necessarily just for the storage that is wanted. One of the boxes in the picture is a plastic shoe box but is great to hold fabric and non reeled threads as it is easy to see what is inside at a glance. These can be stacked on top of each other within the shelving or cupboard.

Cardboard shoe boxes also make good storage for many items including reeled sewing threads. These are not see through so should be labelled clearly with what is inside them so the lid is not being lifted every time which is sometimes what I have to do after forgetting the label.
Larger boxes either plastic or cardboard with lids are great if larger pieces of sewing fabrics or lots of wool and yarn are kept.

Speciality Storage


There are a lot of speciality storage that is made for the job intended such as the bobbin storage box in the picture above. These usually are made for that one particular item and when sewing a few different ones could be needed.

Other speciality storage would be sewing baskets, needle holders, pin cushions, Knitting needle cases. Many of these will hold the other containers and can become little craft spaces in their own right. A sewing bag could have pockets for the needle holders, threads and bobbins. A knitting bag could have a place to keep a tape measure or cable needle.
There are many different types of cupboards, shelves, boxes and other storage containers that are available in many shops and on line outlets such as The Range.
However you organise your craft area be it one drawer, shelf or cupboard or if lucky a whole room enjoy organising your sewing storage and enjoy.

Return from Sewing Storage to All about Sewing
Please take care with any soft furnishing that it does not come into contact with any heat source. 
If you have found an error on this page or want some more information on sewing cushions.
Please contact me . Thank you