Vintage Cushions

Revamping a theme from the past
Vintage cushions may work really well when choosing the design and style of your room. They can bring out or highlight a certain aspect of a bygone era or decade. Many seem to be making a return as over the years the younger generation revitalise some old trends that they have missed.
These can either be bought from some antique shops, although the pads may need re-filling (as over the years the insides tend to crumble), jumble sales or car boots. They may need to be washed depending on what filling is inside.
New "old" cushions can be made using vintage material. This can be bought over the internet or in specialists shops.

Why not use your chosen colours to create your version of a tie dye pattern and bring back the 60's or 80's. Colours and designs can really go wild by doing that.
The 60's can also be highlighted with bold prints in bright colours. A cover can also show a single large flower, a persons face or past cartoon character.
Fabric in floral prints and polka dots were popular in that decade.

Getting the Vintage Cushions Look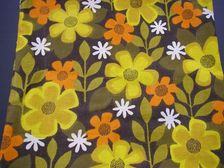 Remember the paisley patterns from the 70's and the equally large bold swirls and prints? Some were really striking on the eye as some of the colours were really bright.
If you want to go back further then you can choose material with a classical style.
Having a cottage feel to your room? There are many chintz fabrics showing garden flowers, birds and animals. Some of these have quite large patterns which would look good as a centrepiece cushion with other muted ones to coordinate.
The 80's was another decade that depicted floral prints.
Flowers are also shown in tapestry fabric, the older versions of this fabric had designs woven into them but the modern versions show the designs printed onto the fabric.
Finding some retro cushions that suit your room or making your own with vintage material can look really great.
But why stop there if you want the look but prefer new fabric then you can re-create the era with many modern takes on older themes.
There is a wealth of choice and on line market places are great ways to find vintage items. There are other outlets on my shopping page and a link to search Amazon for other items.

Please take care with any soft furnishing that it does not come into contact with any heat source. 
If you have found an error on this page or want some more information on sewing cushions.
Please contact me . Thank you
Return from Vintage Cushions to How to Make Cushions