How to wash Pillows and Cushions


Do you know how to wash pillows and cushions and how often this should be done? This can be one area that many people forget to think about.

Dust mites are around us all the time as they feed off human skin that we shed and the enzymes in their faeces can cause eczema, asthma, itchy eyes or bronchitis. They live in our carpets, furniture and especially like our beds.
Pillows can sometimes be forgotten in the household cleaning jobs to do.
You rest on these for about seven to seven and a half hours a night, they mop up sweat and absorb grease from your head if you get hot while you sleep. So really these should be washed regularly every few months.
Pillows have the advantage of having a pillowcase or in some bedrooms a couple of pillowcases on the top of them. This protects them from getting too dirty and so the frequency of washing them is lengthened. People with allergies may have a special pillowcase to stop mites affecting them.
Different fillings and fabric can also add to the frequency of washing a pillow.
Foam or synthetic fillings and a polyester casing may make an individual quite hot and will require more cleaning then a pillow with a cotton pillowcase and either down and feathers or polyester fibre filling.
Pillows can be cleaned by vacuum regularly this will remove some of the mites. Nowadays most pillows can be washed in the machine on a delicate 40 wash regardless of the type of filling but do check the manufacturers instruction label before washing to be on the safe side.

How to wash pillows and cushions by hand.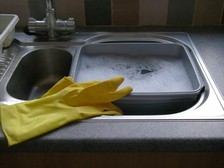 These could also be hand washed if wanted. Fill a bowl or bucket with fairly hot water, I always wear rubber gloves to protect my hands, and add a little detergent. Then gently allow the water to go in and out of the pillow or cushion casing and leave to soak to let the water get right into the fabric. Rinse in clean water and lay flat to drip dry. This can be done best on a nice sunny day and the sunlight will help to sanitize the pillow.
Pillows should be washed at least every six months to freshen them up and get rid of anything left behind by the mites.
I once put a foam filled pillow into the washing machine and when it came out the foam had doubled over itself. The casing it was in would not let me straighten the pillow so I had to unpick the casing, straighten the pillow and then re-sew the casing together. Sometimes things do not go right!!
Please take care with any soft furnishing that it does not come into contact with any heat source. 
If you have found an error on this page or want some more information on sewing cushions.
Please contact me . Thank you
Return from How to Wash Pillows to How to