Knitting Needles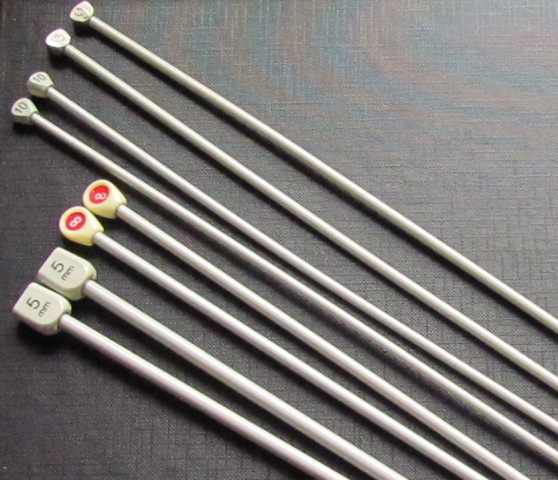 Knitting needles are chosen at the start of knitting an item and for most knitting is an essential piece of equipment. Knitting can also be done using only the fingers and hands.
They come in lots of different sizes and when you choose a pattern it will state what size of needle and the type of abbreviations that has been used for the pattern. It will also give a tension guide which will inform you how many stitches and rows should be in a certain sized square. Many people when they first learn how to cast on knitting tend to knit very tight and as confidence grows the knitting technique will relax. Some are too much the other way and have extremely loose knits. Changing the needle size will help to rectify this if you knit tightly then pick larger needles and choose smaller ones if the knit is loose until you reach the right tension.

Common Sizes of Knitting Needles

UK

Metric

US

12




11




10




-




9




8




7




6




5




4




3




2+ 3/4mm
3 mm
3+1/4 mm
3+1/2 mm
3+3/4 mm
4 mm
4+1/2 mm
5 mm
5+1/2 mm
6 mm
6+1/2 mm


2
-
3
4
5
6
7
8
9
10
10+1/2

---
Other Useful Needle Sizes

UK

Metric

US

14
13
0
00
000


2 mm
2+1/4 mm
8 mm
9 mm
10 mm


0
1
11
13
15

---
Nowadays needles are made out of bamboo, plastic or metal but in years gone by bit of twig , bone or animal horn was used. Needle length can also vary so make sure you have the right length for the item you are making without bunching the stitches up too much. Different knitting techniques will suggest the length of the needle as some knitters tuck the needle under their arm so would need a longer length.
Some knitting stitches use double pointed needles such as in cable stitches. These smaller needles will hold one or two stitches either behind or in front of the work so the different patterns can be achieved. These are also used when making tubular items such as socks or necklines like polo neck and can be bought a set of four or circular.
There are many shopping outlets that supply all you need for knitting from  on line craft sites to the independent wool shops.
Return from Knitting Needles to Knitting Basics
Please take care with any soft furnishing that it does not come into contact with any heat source. 
If you have found an error on this page or want some more information on sewing cushions.
Please contact me . Thank you