Lovely Linen Fabrics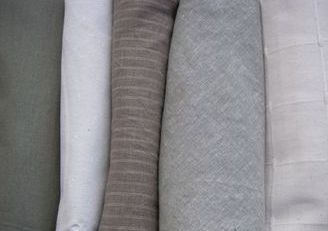 Linen fabrics are one of natures natural fibres with others being,wool, silk and cotton.
This fabric was first used in Egypt with the Greeks and Romans following later. It is one of the oldest fabrics recorded and mummies from Egypt were wrapped in this fabric before being put inside a tomb. It was a sign of wealth.

This is obtained from fibres in the stalk of the flax plant. The stalk is split and submerged in water for a few weeks to separate the fibres from the gluey substance that sticks them together.
Flax is grown from Ireland to Russia with Flanders being the main producer with its ideal climate, soil and temperature.
In early days producing this material, starting from sowing the seeds, could take nearly a year until the end product was completed. This has improved greatly with technology.

Linen Fabrics - the facts



These fibres then have to be joined together as they are not long enough when they are removed from the stalk. After this the spun fibres are then woven into the final cloth.
Fibres that were finely spun from the stalk would result in the cloth having a smooth look. If the fibres were roughly spun and the weaving was looser then the material would have a softer effect.
When thinking of this natural material, tea towel, sheets, and tableware immediately comes to mind but it is good for chair covers, bed linen, clothes and bags as well.
As with cotton, other fabrics with this material base are Chintz, Brocade and Damask.
It comes in a variety of weights, is hardwearing and absorbent. The fabric is stronger when it is wet than dry and have natural colours of grey, ecru, tan and ivory. To get pure white the fabric would need to be bleached.
It is cool to the touch and also smooth and lint free.
However this fabric does crease easily but many people like the way it creases and say that is one of the qualities of this material.
This can also be mixed with other fibres to minimise the creasing and this effect should be considered when choosing covers for your chairs or settees.
If you prefer the crisp, unruffled look then maybe this material should be avoided.
There have other uses for this fabric from handkerchiefs for well dressed gentlemen, a canvas for oil paintings, a cloth for baking, to paper.
Enjoy choosing your linen fabrics.
Please take care with any soft furnishing that it does not come into contact with any heat source. 
If you have found an error on this page or want some more information on sewing cushions.
Please contact me . Thank you