Roman Panels

Welcome to my Roman panels page.
These can offer a different look for your room if you are not keen on flowers, animals or birds.
Size is approx 56 cm by 44 cm , 22 inches by 17 inches.
I have 2 panels and they cost £2.00 each (including postage)

---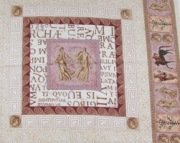 This one shows Roman figurines. The colours are rich brown. beige and cream.
The mottled edge has a sparkle of gold fleck.
---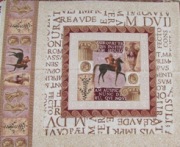 This one has the same rich brown, beige and cream colours. The beige edging is flecked with cream and gold.
The centrepiece being the Roman horse.
The side panel has the mixture of Roman symbols.
---
Please take care with any soft furnishing that it does not come into contact with any heat source. 
If you have found an error on this page or want some more information on sewing cushions.
Please contact me . Thank you