Fabric Panels
Many different types of fabric panels can be bought to make into some type of sewing craft.
Using panels as the front of a cushion can show off a hobby, a much loved animal or a favourite saying or flower. These can be personalised to a particular persons likes and would make a very loving gift to be treasured for years to come.
Another way a panel could be used is by having it as a framed piece of fabric to place against a plain wall. With so many intricate designs available, some fabrics when looked at give detail that is different every time would make a really nice picture.
Ideas in using Fabric Panels


Cushions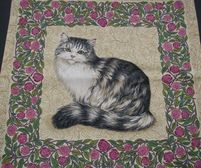 A cushion could be made using a panel like this one. It would be for an animal lover and in particular one that liked cats. There are lots of different colours within the panel that could be picked out when making the backing.
The addition of the panel would make a very decorative cushion. This part of soft furnishings is really the easiest one to change and add interest with.
Quillows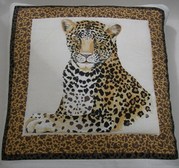 Very similar to cushions these panels can be used for either. A quillow is a cushion front attached to a single sized quilt. The quilt also acts as the cushion pad.
The fabric inside can often compliment the front picture with the casing being a plain colour. In the case of the leopard and the cat picture the inside fabric could be paw prints but I chose leopards in trees for the inside of this one I made.
Quilts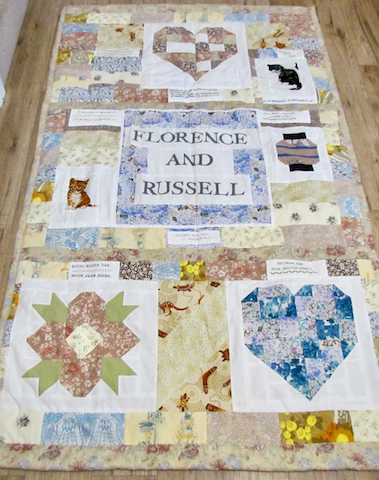 This is just to give you an idea of how panels can be part of a quilt. The one shown is one I made of patchwork panels for a reminder of a wedding, but picture or saying panels could work just as well.
Wall Hangings


Wall hanging can be made by making the start of a cushion cover ie adding the back and sewing it together. Loops can be added to place wooded dowels through so the panel can be hung on the wall.
If a wadding layer is added between the front and the back panels then some detail on the panel sewn around, this can make some parts seem to stand out.
Fabric Panels for sale


Here are some fabric panels I have for sale that would make lovely cushions.
Whatever you are making I hope you find the type of fabric panels to make your project.
Please take care with any soft furnishing that it does not come into contact with any heat source. 
If you have found an error on this page or want some more information on sewing cushions.
Please contact me . Thank you