Creating Stylish Beanbags
Stylish Beanbags have been around for a long time. When my children were small back in the 80's basic ones where found, and still are,in the shops depicting their favourite toy theme at the time. These were basically a round bag filled with polystyrene beads.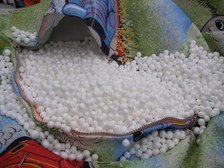 These had a zip fastener at the base which I always stitched down so that inquisitive fingers did not open the bag and spill out the beads all over the room that could have resulted in them chocking if they swallowed any.
When making some for yourself then I would always suggest that in inner bag is used as a cushion pad to avoid this happening.

Stylish Beanbags brought up to date

This type of seat has now been brought right up to date with many designs to suit whatever need you may have from a resting place for babies through to a chair specifically for gaming.
New houses and flats that are being built today don't always allow room for much of the furniture that can be bought. Who would have thought that you could buy furniture for your room, outdoor seats, chairs for children and not forgetting your dog as well.
Trays also have this type of cushion attached to its base as it is good for moulding to your lap when eating, writing, drawing or using a laptop.
Satnavs and other gadgets can be held in place with mats containing this type of filling, as it is so versatile for holding items.


Creating your own

These can be created by making them yourself to suit your room and decoration, made in matching or coordinating fabric to add to the colour you have chosen. The fabric should be fairly robust and not fine and delicate if you can imagine the use this seat will get. The type to choose would be a medium weight curtaining material. I would suggest also making a inner bag to hold all the filling and this should also be made quite sturdy and the gap stitched closed.
They get their name from the type of filling that is used and can be a small or as large as you need. Any cushion can be made into a beanbag by using polystyrene beads so you can make them any size and shape.
Smaller ones are great to practise juggling or to help children develop their hand eye coordination through throwing and catching them. A game can be devised by throwing them into pots or hoops set at a distance to see who is able to get the highest score.
Fillings can be bought from most craft shops such as The Range. 
What ever size, colour or shape you make enjoy using them.
Return from Stylish Beanbags to Cushions and more
Please take care with any soft furnishing that it does not come into contact with any heat source. 
If you have found an error on this page or want some more information on sewing cushions.
Please contact me . Thank you