Celebrate with some
Wedding Bunting


Choosing some wedding bunting to help you make your day special can be a lot of fun.
You can buy some from different outlets or maybe to add to the excitement (?) have a go a making your own.
Using this type of decoration can enhance your colour scheme and match in with the flowers or bridesmaid dresses.
This can be hanging inside the reception room or, depending on the time of year, can be used outside to keep the special moments going on and on.
Themes ideas for Wedding Bunting


Themes for your wedding can be a large loud statement such as a rock and roll wedding or a subtle approach that will give hints to the theme but in the background.
Squares, Circles or Stripes can be used in this way as well as a colour.

Everyone has different ideas on what their day should be like and every wedding day is special.

Weather Themes


Spring colours
That does sound a bit strange but these are really just about the time of year the wedding takes place.
The colours picked out can represent the pastel shades of Spring, the more vibrant shades of Summer and the rich colours of Autumn and Winter.
Day Themes
Some celebrations take place at certains times of the year such as Easter, Valentines Day, Christmas Day or even Leap Day.
The bunting for these day could not only be in the colour to match the occasion but also in the shape that could be used to recognise that day such as hearts for Valentines Day.

Colour Themes


A different take on the red, white and blue theme.
These are not only the colours you have picked but could also be some occasion that is happening in the country as well.
The UK had a special year in  2012 with the Royal  Wedding and the Olympics.
A friend of my daughter also had a special year and got married. She wanted red, white and blue as the theme but not the solid, bold colours so she had some bunting with a difference made for her day.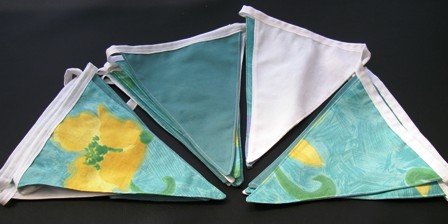 Patios, gardens, Marquees and trees can also be decorated with these flags. The outdoor ones can be made larger than those for indoors as there is much more space to show them off.
One of the wonderful things about having this decoration is that you can then use it to adorn your room to remind you of your special day.
It can then be used over the years or to decorate a child's room.

Enjoy...

Please take care with any soft furnishing that it does not come into contact with any heat source. 
If you have found an error on this page or want some more information on sewing cushions.
Please contact me . Thank you