What is bunting?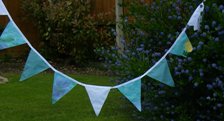 Many ask what is bunting used for? and why would you use it?
This type of decoration is fun to use and fun to make. It can make Birthdays, Christmas, picnics, or any other time when friends and family get together even more special or some say spectacular!!!

This can give a focus on your celebration and show others that there is a special event happening wherever it is going to be held.
In the United Kingdom 2012 was a special year when our Queen celebrated her Diamond Jubilee and the Olympics were held in London. If there is ever a time to hang out the red, white and blue bunting then this was a great chance for everybody.
Again the red, white and blue was prominent when we celebrated the Queens Platinum Jubilee in 2022. Queen Elizabeth ll was the first monarch to reign for 70 years.
Now in 2023 we are celebrating again with the coronation of King Charles lll.
There will always be a celebration of some sort to enjoy or a party to be held.
What is bunting used for - some ideas


Birth of a Baby

The birth of a baby is really special and can also be a cause to decorate the little room.
The nursery could be decorated in your chosen colours or theme with these banners to enhance the scheme.
When the baby has arrived, these can then be personalised by having the name of the new addition put onto it or wait until he/she arrives before making them. 
It will be a lovely memento for them in later years to take with them wherever they go.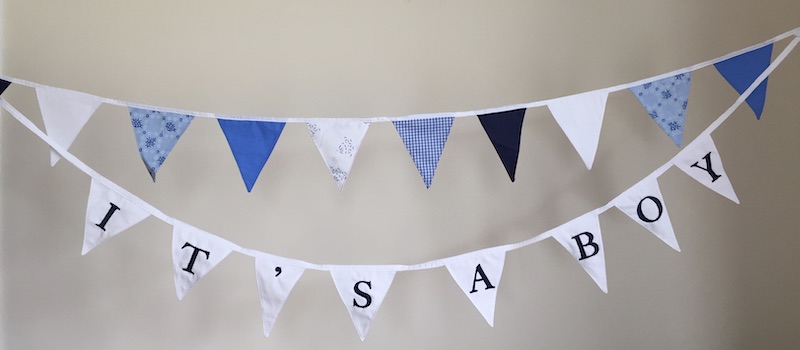 Bunting banners can also give information to friends and neighbours saying whether a girl or boy had arrived.

Wedding Celebrations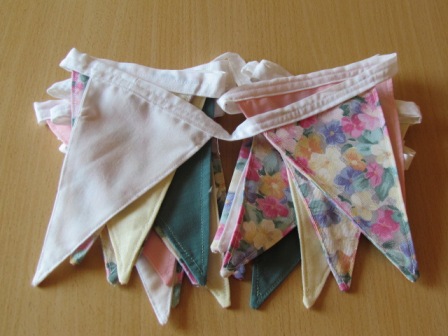 Starting with the hen do and then have your wedding colours enhanced by hanging up these little flags around the party room.
Afterwards it would be a wonderful reminder of that special day and could be brought out to celebrate anniversaries.
On Silver, Ruby, Golden or Diamond anniversaries these could be made in the colours or shapes.
Outside fun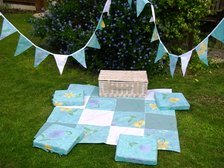 But why leave all the decorations inside as it can also be a lovely item to hang in the garden.
A picnic can be changed from a ordinary picnic in the park into a special party.
These could be made to match or compliment a picnic set or ground mat.
If you are having a picnic in the park then it could be an indicator to show friends and family where you are.
Jazzing up your holiday

Whether you are camping, renting a cottage or flying off abroad, these are small enough to pack in your suitcase to help make your holiday special.
Great for seaside holiday to show the family where to find their spot on the beach.
These are even better if a family member is celebrating a birthday on holiday to make that day feel it is their day.
Public Holidays
This type of banner can be used as decoration for your parties such as Halloween with pumpkins, Guy Fawkes with rocket shapes,  St Georges Day with the flag of England, St Davids with the flag of Wales, St Andrews with the flag of Scotland or St Patricks Day with the flag of Ireland. 
Also these patron saints day also have an emblem as well like the rose, daffodil, thistle or shamrock.
These would then show the emblem of that particular day and could be hung to decorate the ceiling, walls, patio or even hung between trees or bushes.
Just for fun
In order to make my mums 90th birthday feel a bit more special in the lockdown of 2020, I decorated my conservatory with bunting and really liked the effect it gave so have decided to keep it up and change it as the occasion arises.
I chose small bunting flags so they wouldn't be in the way of the view outside.
Types of Bunting
All the bunting shown on this page has been made out of fabric and these can be washed if necessary ready to use again or be kept for a long time to help with the family parties. They can also be bought in the cushions and more shop 
These can also be made in different ways and the little flags can be made out of paper, plastic or material. The triangular flags are the most traditional shape but squares, hearts or any other shape will make ones just as well.
How long you want this decoration to last will depend on these factors.

There are many shopping outlets that would have fabric and tape to make these both on line and on the high street.
What is bunting to you? whatever the reason for your celebration, do it in style by adding this as a finishing touch.
ENJOY.....


Please take care with any soft furnishing that it does not come into contact with any heat source. 
If you have found an error on this page or want some more information on sewing cushions.
Please contact me . Thank you