Chair Cushion Covers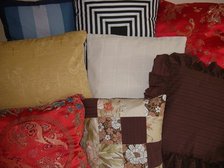 Chair Cushion covers give variety to your much loved cushions. During the year you can make many changes one way is to celebrate the seasonal ones like Easter and Christmas . A good time to ring the changes is in Spring by bringing your room up to date easily by adding covers in the new season colours.
There are lots of lovely fabrics available in the shops or why not try making one out of ribbon. Whether it is added as an extra, a tumble block section or one just using lots of different types.

Some can be made in an evening, while more elaborate styles will take a bit longer and although are tricky to master you will be pleased at the outcome.

Creating your  own chair cushion covers


Not all cushions have removable covers as some are used as a base to a chair or a seat in the garden as well as a decoration on a sofa or settee. Usually small decorative cushions don't have removable covers and these are just for show and not in use.

The designs and shape of both of these are the same to enable one to fit over the other for changing if needed. The Cylindrical shape or bolster cushion is an example with circular and round as another
The outer casings of the cushion pads can be as plain or as fancy as you wish, with the fabric matching, coordinating or really clashing as this is to create the look you are going for.
Experiment with different colours, patterns or textures.
Jazz it up with jewels, Sequins, tassels, braid or bows.
Show off your handiwork with patchwork, cross stitch, embroidery or tapestry.
All these different techniques can be used to make your individual covers and really different effects can be reached if you try to mix two or three techniques.
Turn your room into a celebration on birthdays and at Christmas.Cover for cushions can be made in such a variety of different ways to make your room..................yours.
Please take care with any soft furnishing that it does not come into contact with any heat source. 
If you have found an error on this page or want some more information on sewing cushions.
Please contact me . Thank you
Have you made a cover
If you have made a cushion or cover and are really pleased with the end product, please show us the result and say how it was done in the Cushion Gallery
Return from Chair Cushion Covers to Cushions and more